Goof: Professors to star in Netflix original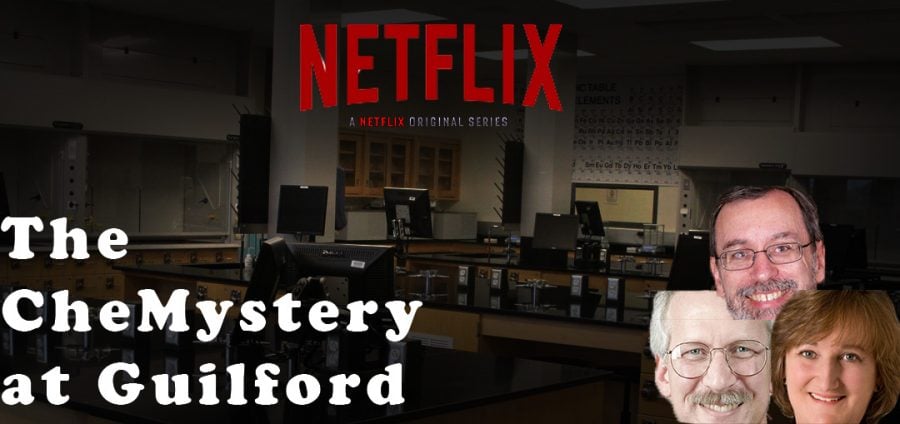 Disclaimer: This story is a part of out April Fool's edition, The Goofordian. This story was created by Guilfordian Staff and is not based in fact.
Fans of Rob Whitnell, Dave Millican and Gail Webster will get their first look at the renowned professors of chemistry on the big screen, as Netflix is set to roll out a series based on a thrilling new mystery surrounding the murder of Guilford College President Jane Fernandes. Netflix released a teaser last Tuesday, March 19 for "The CheMystery at Guilford," which showcases the three professors teaming up together with the forces of chemistry to determine the killer at hand.
The 1,000-episode Netflix-original series began production over spring break and was filmed all across Guilford. Described by New York Times television critic Ty Trayshun as an "experiment gone wrong," "The CheMystery at Guilford" is directed and produced by American YouTuber and entertainer Shane Dawson. Dawson flew out from Long Beach, California as soon as he got his pitch approved.
"This is going to be a huge hit," Dawson said in an email interview with The Guilfordian. "I can smell it. I think there's good chemistry between all of the actors that will leave viewers at the edge of their seats."
"Murder in the Chemistry Department" will follow a plot similar to that of American comedy series "Scream Queens."
The trailer for the new show features Millican working diligently in the chemistry department before receiving a phone call from his colleague, Whitnell, who is frightened by a discovery. Whitnell soon reveals he has found Fernandes' body lying in his lab room in a puddle of hydrochloric acid.
Gail shows up from her lunch break and trips over the body.
As the three run to hide Fernandes to avoid any accusations, they ponder the ultimate question: who could have killed such an esteemed member of the Guilford community and framed the chemistry department for it? Or was it really one of the chemistry professors themselves?
The release date is set to be Wednesday, May 1, just in time for students to binge the series over summer break.
"Just the trailer itself made my eyes aqueous," said first-year Die-Pohl Mohmint. "I can't wait to have a group of friends over to have a 'CheMystery at Guilford' marathon. I'm in Rob's class, and I think he'll be just as interesting and funny on screen as he is with his students."
While the chemistry professors will have to take time off from school to attend premieres and various showings, they believe their series is an opportunity of a lifetime. Currently, Guilford is in the process of hiring new chemistry professors, so students will have to teach themselves in the meantime.
"I have been in the acting scene since my very first talent show in fifth grade," Whitnell said. "Anne has always supported my lifelong dream of making it in the film industry, and hopefully this will be my big break."
Millican expressed similar sentiments.
"The fact that my dreams have crystallized and come true in such a major series is emotional and overwhelming to me," Millican said. "I am awash in genuine appreciation for Shane, Rob, Gail and everyone else who made this show possible and believed in me. I'm sure this is going to get a great reaction from our fans."
Despite the overwhelming positivity among nationwide fans and Guilford students alike, there seems to be some residual acidity among the cast members.
"If I'm being honest, I didn't even want to be a part of this show," said Webster. "Off the record, I was forced to by my colleagues. I wish I could dissociate from them."
Some chemistry students have also voiced their concerns.
"As an aspiring chemist, I think 'The CheMystery at Guilford' is an utter atrocity to chemists around the world," said Junior Louis Struckchur. "The series just seems so basic, and even the name is obnoxious."
The series has already been nominated for five awards before it has even premiered, including a Primetime Emmy Award for Outstanding Limited Series and a Golden Globe Award for Best Television Limited Series.
If "The CheMystery at Guilford" garners enough support following its release, Netflix plans to renew the show for another season that will include another 1,000 episodes uncovering more che-mysteries behind Guilford.