Fresh. Local. Good.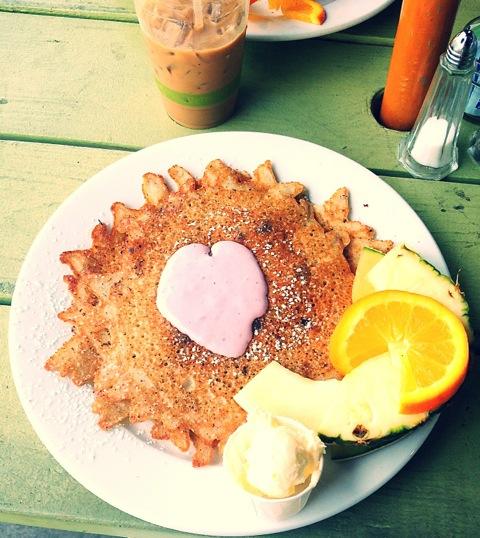 Fresh. Local. Good.
These are the first three words you will see as you approach the Iron Hen Café, local to Greensboro. The slogan, which is painted on the roof, becomes a reality as soon as you walk into the café.
Customers are welcome to choose a table either inside the café or outside on the patio.
A friendly waiter quickly arrives to deliver menus and take beverage orders.
The café has an owner-operated coffee shop, which serves organic, fair trade coffee. The menu includes Frappe Freezes, smoothies and espresso-based drinks of all kinds. In addition, customers can choose from a variety of beers, wines and cocktails.
The dining menu includes all of your favorite Southern comfort foods with a unique twist. Rather than chowing down on dishes fried and buttered, your heart will thank you for the local, seasonable, and sustainable ingredients used in their classic Southern dishes.
Iron Hen prides itself on the locality of their ingredients, which they purchase from farms throughout North Carolina. The short distance from farm to table results in fresher ingredients. The quality is palatable.
The Breakfast menu offers pancakes, french toast, omelets, breakfast sandwiches and eggs Benedict. They also have "Big Plates," such as black bean cakes, corned beef hash, shrimp & grits, toasted quinoa. Their "Lighter Fare" includes grits, granola, and steel cut oats.
The Lunch and Supper menu offers seven different salads with a variety of homemade dressings to choose from. The menu also includes fourteen different sandwiches, from a shrimp and Parmesan grilled cheese to tofu tacos. In addition, the Café also serves mini crab cakes, vegan black bean cakes, creamy grits, whole grain hash and tomato coconut soup.
Prices vary from $7 to $12 per dish, but customers can be assured that they are getting their money's worth from the fresh, satisfying ingredients.
The café has a strong mission that they strive to fulfill.
According to the website, their mission is "to connect the food we serve, to the farm it came from, and to the people at our tables."
In doing so, they advocate for purchasing organic food grown in North Carolina and making environmentally responsible decisions through recycling and reducing waste.
Every experience at the Iron Hen has contributed to my sense that every member of the staff is committed to fulfilling their mission.
In the past, I've tried their blueberry pancakes, dirty chai, sliced pear salad and grits & greens.
In all of my experiences, I have never left the café unsatisfied. Every single dish that I have tried has been stellar in taste, quality, and presentation.
If you live in Greensboro and still haven't been to the café, what are you waiting for? Head over to the Iron Hen Café to experience the comfort of their food and service. After all, it's fresh, local, and good. How could you say no to that?
Leave a Comment