Men's basketball assistant recognized nationally for coaching talents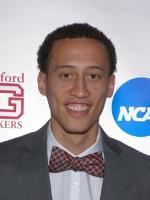 Guilford College assistant men's basketball coach Ronnie Thomas was recognized by the National Association of Basketball Coaches (NABC) as a recipient of their 2016-17 Under Armour 30-under-30 honors. Thirty young and upcoming men's basketball assistant coaches across all National Collegiate Athletic Association (NCAA) divisions were awarded for their impacts on their respective teams.
Thomas just finished his second season at Guilford and helped the team to a Old Dominion Athletic Conference championship and their first NCAA tournament appearance in over half a decade. In an interview about his career, this is what he shared.
Q: How has it been working at Guilford?
A:I played in the ODAC (for Bridgewater College) and Guilford has always been known, since 2006, to be one of the top teams in the ODAC, so just to come in and be a part of a program that's always been known as one of the better basketball schools has always been good. Then just to come into the program that (head) coach (Tom) Palombo works to build everyday, and now it's so team-lead and team-oriented, so it's been special.
Q: What is it like transitioning from being a player to being a coach?
A: It helps after playing in the ODAC, the same league that I am coaching in. (I can) understand the different oppositions and understand that I have been out there and been through it, so I can see it from a different viewpoint as a player and as a coach. I can sort of help the players understand more and teach them, especially playing so recently; it's not like (I played) 15 years ago, it's from five years ago that I was playing in this league, so it allows me to sort of be on the floor with them and see from their perspective. I know sometimes as a coach, you see it one way and as a player you see it another way, so it helps me in that agenda. But I always knew I wanted to coach, I was happy when my playing career was over so I can go ahead and start coaching.
Q: How do you feel about being an honoree for Under Armour 30 under 30?
A: Definitely excited as far as in the coaching profession. To be an honoree of anything that they give out is definitely a blessing, and I am thankful for it, but it's doesn't really change what we do day to day and I am still going to try and put my head down and do the best job I can here at Guilford College.
Q: Did you ever think you would receive something like this?
A: I didn't. As an assistant coach it is very hard to be recognized outside of your peers. As a peer, they understand how hard you work and the work you do behind the scenes, especially in Division III, where myself and coach (Marc) Slade do the all the operations. Its sometimes tough to get recognized, so its a nice feeling for sure, but at the same time, we know Coach P wins ODAC Coach of the Year and South Region Coach of the Year every year.We know (as assistant coaches) we have a big hand in that, and he knows that we do and he tells us that we do.
Q: What do you hope to teach and encourage your players?
A: I think the biggest thing for us is we have a lot of guys returning back, so we just had to constantly remind them that it's a process and that they have to embrace that process and it's not going to happen over night. They can't just expect to be back to the ODAC championship in one game They have to play 25 regular season games and they go through 35 practices before they play the first game, so they just have to understand it will be a process and when we come back in August, day by day we (have to)really work hard in the preseason, then we really (have to)work hard going to practices and then, going over the course of the season, we just have to constantly get better.We will be playing our best basketball and working on the goals we set this year and hopefully achieve them in the upcoming season. We are also setting new goals and becoming more competitive on the national level.
Q: What do you look forward to in the upcoming basketball season?
A: I mainly look forward to having a lot of guys back. We are losing three seniors, but as far as the underclassmen, we aren't losing any, so I am definitely excited to have everyone back and to continue the culture. It's never easy, but it is easier having a lot of the guys back with this freshman class coming in so they can sort of show them the ropes and they can protect the brand that we try and build everyday that Guilford basketball is all about. When you have so many back, it's a lot easier to have everyone work towards the same goal: going back to the ODAC championships. It's exciting to see what they can do. It's also exciting to see what they will do this summer because they can either stay the same or they can get better.
Q: Can you tell me about the program you started Quaker Read?
A: The Quaker Read program was made because we just really want to get out into the community. Last year, I was just moving into Greensboro it took me a little to get used to everything, but once I got situated, I was able to find and start a program at Oakwood Park. It was one of the first schools to open their doors to us and let us in. It is a title one school and that is the type of school we want to really key in on. The whole program is about really getting into the schools and to help kids, and try to get the guys to get in the notion of giving back. It's important for the players to go in and show the students how important it (to read),and the students don't always want to hear their teachers always telling them. But in a player to player or student to student situation, they can talk and they are prone to listen. For our guys to come into the schools and really help out is important because most of the kids don't really go to camp or do a lot of things outside of their neighborhood, so it's a good place for them to be like 'this college basketball player is doing it,' so it gives the students a little more incentive to read, even if it's only for 15 minutes. They are able to talk and make a connection. That's the most important part of it. We will continue and try to broaden the program into other schools and create a writing program as well, but it takes a lot of planning that goes into it.
Q: What is it like working with Coach Tom Palombo?
A: Coach P is probably the funniest guy I know. He also allows myself and coach Slade to do a lot. He really trusts us a lot. He allows us to do a lot in regard to recruiting,scouting and just working the guys out everyday, but he really trusts us and just tries to keep things very simple. He is not simple-minded when it comes to his thinking. He is very complex, but as far as the things we decide to do or game planning, we always try and keep it very simple. He tries to make situations where the guys can be successful and they can be in the right positions.
Leave a Comment