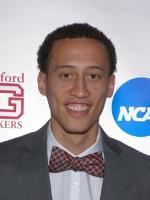 Abigail Bekele, Staff Writer

May 18, 2017
Guilford College assistant men's basketball coach Ronnie Thomas was recognized by the National Association of Basketball Coaches (NABC) as a recipient of their 2016-17 Under Armour 30-under-30 honors. Thirty young and upcoming men's basketball assistant coaches across all National Collegiate Athletic...
Daequan Fitzgerald, Sports Editor

February 24, 2017
The Quakers have seen injury, a double-overtime loss by three and offensive struggles. But in the end, they are No.1. Guilford's 63-57 victory at Bridgewater College on Feb. 18, was their 20th of the year and cemented their spot at the top of the Old Dominion Athletic Conference for the first time...