Andrew Walker, Sports and Web Editor

February 23, 2018
Guilford College men's basketball team beat Shenandoah University in the first round of the Old Dominion Athletic Conference tournament, 89-78. Guilford advances to the quarterfinals on Friday, Feb. 23 and will face Washington and Lee University. This was the second time in four days that Guilford...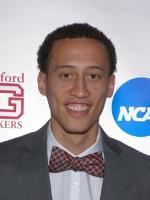 Abigail Bekele, Staff Writer

May 18, 2017
Guilford College assistant men's basketball coach Ronnie Thomas was recognized by the National Association of Basketball Coaches (NABC) as a recipient of their 2016-17 Under Armour 30-under-30 honors. Thirty young and upcoming men's basketball assistant coaches across all National Collegiate Athletic...