Professor Mylène Dressler will celebrate release of her new novel with students and community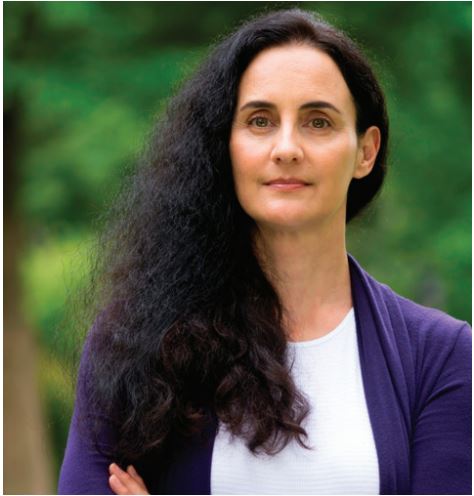 Six years ago, Associate Professor of English Mylène Dressler was traveling along the Pacific Coast Highway in California when she came up with the idea for her new novel, "The Last To See Me," which was released Tuesday, Sept. 5.
That same day, she thought of two other elements of the story: an image of the novel's main character and the last line of the story.
"Suddenly this idea flitted into my head," said Dressler. "What if someone lived here and they did not want to leave, even when they died.
"Unlike my previous novels, as soon as I had the idea, I also saw the character. It was very, very strange. She was almost fully embodied … she was in front of me and I could see her. I had a sense of who she was and what era she was speaking to me from and … I also almost immediately heard in my head the last line of the story."
The main character Dressler envisioned was later named Emma Rose Finnis, a 19-year-old working-class woman who dies. The story is from the perspective of Emma as a ghost who refuses to give up her ghost form.
"Everything around (Emma) is telling her that she should remain in the dark and be invisible and that she is not worthy of being seen," said Dressler. "Everything inside her is telling her to resist that and to persist and to continue to be present. So it really is a book about refusing to go gently into that dark night."
Although Dressler had discovered the essential elements of the novel early on, getting it to the publication stage was not easy. It took Dressler several years to finish writing the novel.
"It was challenging because I've never written a book like this before, I've never written a ghost story or a supernatural book," said Dressler. "And then I gave it to my agent and … was very surprised when she was able to sell it. It seems very fast at the end when it suddenly becomes a book, but the truth is that the process is a long and fairly excruciating one, even when you know the character, even when you know the story, the challenge of trying to honor that voice and honor that story is a long and slow one."
Dressler adds that the book is also a take on how modern culture treats marginalized people, or "others."
"There are a number of things about this book that might interest Guilford students," said Dressler. "One is that it is essentially, at its core, a book about justice. It's about justice for this character … a character who happens to be working-class, who happens to be (an) immigrant, who happens to be 'other.'"
The novel's ties to Guilford's commitments to both justice and diversity will prompt students to think critically about the questions posed in the story. Students will have this opportunity on Tuesday, Sept. 19, when the Friends of the Library will be hosting a reading and signing in the Carnegie Room of Hege Library.
"The wonderful thing about doing the Friends of the Library reading at Guilford is it too will be a celebration, but in a more academic context," said Dressler. "And I hope students that are interested in both hearing and experiencing a good story, while at the same time being invited to ask deeper questions about who is seen and who is not seen in culture, will be drawn to this tale."
Scuppernong Books will also be hosting a celebration of the debut of "The Last To See Me" on Friday, Sept. 8 at 7 p.m. Dressler will be reading from her novel and discussing the story at this launch event.
At both events, Dressler invites the community to engage in a reflection on culture in society through the lens of her story.
"What I wanted to do was write a good story, a good page-turning book," said Dressler. "… But that also has a great deal of weight underneath it if you're willing to look for it and find it."
When Guilford students contemplate the heavy topics about culture discussed in Dressler's book, this could lead to greater discussions within the community about our culture, given the current political and social climate.
In the words of the narrator of the novel, Emma Rose Finnis, "Now, let's say you want to change the odds. Let's say you refuse to be put down in a pauper's grave. What do you do?"
Leave a Comment