The beautiful, wonderful caramel frappuccino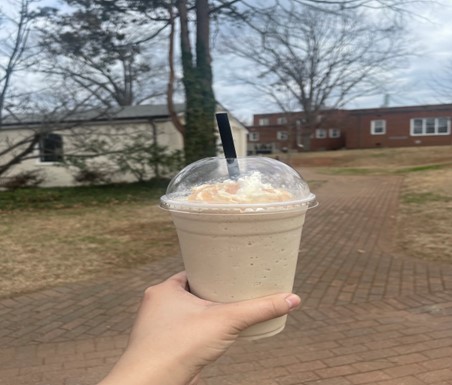 Welcome to the Cottage's Coffee column!
I'm reviewing the caramel frappuccino at Rachel's Cottage this week. I loved the caramel flavor in this drink, and it had just the right amount of sweetness, perfect for anyone who doesn't like their drinks too sweet.
It's a great drink for warm weather, and if you don't like the taste of coffee, this is a good choice— I couldn't really taste the coffee within the drink.
If I were to imagine this drink as an image, I imagine a beautiful spring day. The temperature is just right, not too cold or too hot, and the sky is a beautiful blue with cute, fluffy clouds. 
You hop onto your light blue Dutch bike with a little wicker basket on the front and ride to the farmers' market, feeling the cool breeze through your flowy clothes as you make your way there.
As you walk through the market to get your fresh ingredients, you spot an adorable little coffee cart that's the same color as your bike, and you order a caramel frappe made by the owner. It's always good to support small businesses!
Sweetness: 3/5 sugar cubes
Caffeination: 2/5 coffee beans 
View Comments(1)