Chai cream frappuccino brings the perfect amount of wintry sweetness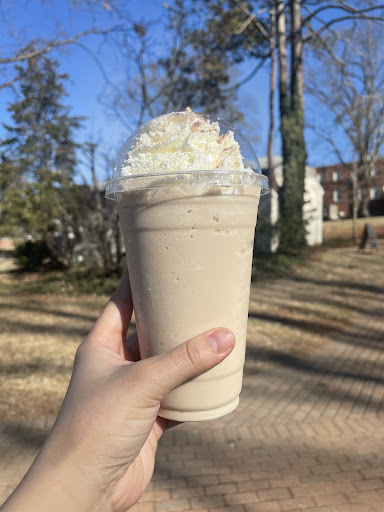 Welcome to the first review in the Cottage's Coffee column! This semester, I'll be reviewing drinks from Guilford's coffee shop, Rachel's Rose Cottage, every week.
Since this is the first review in the column, I will briefly explain how this will go. First, I'll give my honest thoughts and description of what I think about the drink or drinks. Second: At the end, I will rate the sweetness of the drink out of five sugar cubes, and rate how strong the caffeine is out of five coffee beans.
Drink of the week: Chai Cream
Chai cream was a frappuccino, and at first, I didn't have much hope for it. Chai tea is always too much for me, because the tea's blend of spices always burns my throat, but this drink was amazing. It was a nice smooth texture, and it still had that strong taste of chai that popped out, but the flavor wasn't overwhelming. The cinnamon on top of the whipped cream also gives it a nice aroma as you drink it.
If I were to describe the taste of the drink as an image, it would be an aesthetically pleasing Christmas, where fresh untouched snow covers a bright red house with white trim in the countryside. The house is decorated with white raindrop Christmas lights surrounding it, and the aroma of fresh pine garlands or Christmas trees fills the air. The smell of the chai, the cinnamon and the marshmallow whipped cream mixed together reminded me of a new batch of beautifully decorated gingerbread cookies that you just made at that red house with your favorite grandma on the night of Christmas Eve to leave for Santa before you go to bed.
This drink is excellent for people who do not like coffee, but still want a caffeinated beverage to enjoy so they can get through the day, especially when they don't get enough sleep. It's the perfect tasty pick me up; it helped me get through the last half of my day after a long day of class. This drink is sweet but not too sweet, so if you're looking for that middle ground, then give this drink a try. Also, it's a great drink if you miss Christmas during the warmer months and just need a cold, delicious reminder of the holidays.
Sweetness: 3 / 5 sugar cubes
Caffeination: 4 / 5 coffee beans
Leave a Comment