Stamey's Barbecue serves delicious, pit-smoked classics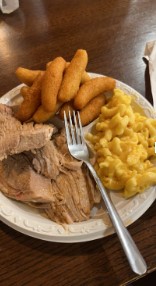 Right here in Greensboro, we've got famous barbecue.
Founded in 1930, Stamey's Barbecue quickly became a hot spot due to its exclusive pit-smoked deliciousness. Cooked over hardwood coals, Stamey's is known for serving in style, and for its famous "secret barbecue sauce." With its original hickory coal smoke pits, Stamey's stands out compared to other barbecue restaurants that use gas or electric cooking methods. 
As a foodie, I enjoy some delicious, pit-smoked barbecue. Luckily enough, we have several great barbecue restaurants close to the Guilford College campus, but Stamey's stood out in particular. My favorite entreé at Stamey's is the sliced barbecue plate. The flavor of the barbecue is like no other, and the hushpuppies dipped in their signature sauce are so good that I always ask for more before I leave.
Stamey's has quite a few regular customers who started coming in their college days and still brag about the barbecue. A family member of mine, Elon football alumni Curtis Shubert, made Stamey's his go-to barbecue restaurant to visit after practice. Even after traveling for years and eating at hundreds of barbecue restaurants, Shubert still remembers the bites that burst with the flavor of Stamey's signature sauce.
With multiple colleges located in the Greensboro area, Stamey's Barbecue is located in the perfect place, attracting local and international students from around the world. You can find Stamey's on West Gate City Boulevard or on Battleground Avenue. The restaurant sells hats and T-shirts, and displays videos of the process involved in making such impressive food. 
 "Stamey's Barbecue shares a welcoming and historic environment," said Guilford College sophomore Nala Foqahaa. "I tried the chicken Q sandwich and coleslaw on the side. The coleslaw was made with their signature sauce and I loved it." 
AJ Merriman, a Guilford sophomore and football player, tried some samples of coleslaw, collard greens and chopped barbecue, saying, "The collard greens were really good, and the hushpuppies that I tried were my favorite." 
Craver Stamey, fourth-generation owner of Stamey's Barbecue, took some time to talk about the history of the restaurant, explaining that his great-grandfather started Stamey's in 1930, and that it is still a family-owned business. He also emphasized the importance of sticking to the family's traditional cooking methods: "We do it this way because this is how we know how to do it." 
Because Stamey's is so close to Guilford College, I encourage you to go experience barbecue the Stamey's way. Stamey's Barbecue is open from 11 a.m. to 9 p.m. Monday though Saturday, and their drive-through is open at 10:30 a.m. It's the perfect place to hang out with friends and enjoy the atmosphere of a historic stop here in Greensboro. Especially after a long semester and the stress of finals, it's a great restaurant to check out! 
Leave a Comment