Tara Thai offers authentic Thai cuisine
A local restaurant brings Thailand to Guilford college through traditional Thai cuisine.
You know those times when you have been binging on junk and fastfood for several days, and you come to the point where you would rather go on a hunger strike than order another processed food item off some fastfood chains dollar menu?
Well, there is a hidden gem within walking distance of Guilford College that offers flavorful and affordable authentic Thai dishes for less than what you pay for pizza delivery.
Tara Thai, an inconspicuous restaurant located in the business complex on 435 Dolley Madison road. in Greensboro, offers a robust menu of Thailand goodies free of Western influence that have a way of carrying your soul to the land of white elephants, one plate at a time.
While Thai cuisine is generally known to blow the roof off one's mouth, on its website Tara Thai pleads with future patrons to allow the restaurant the chance to debunk that myth for, ". . . a good Thai meal should be well balanced between seasoning/herbs and spices."
Tara Thai, is open for both lunch and dinner from the hours of 11:30 a.m. to 2:30 p.m. and 5 to 9:30 p.m. Its offerings are available for both take-out and dine-in.
If it is your first time dining at Tara Thai, be forewarned that you may have a hard time deciding on what to order due to their expansive menu that includes vegetarian, fried rice and noodle, curry, salad and soup dishes, along with exotic drinks such as the signature Tara Thai Elixer, made with fresh lemongrass, lime, brown sugar and Sprite.
Menu prices start below $10 for appetizers, soups and salads. Unless you decide to try the vegetarian Tara Tard Thai multi-appetizer dish that includes a proportionate helping of samosa (deep fried spring roll), pohpai (Thai vegetable rolls), fried and satay tofu. The main dishes carry a reasonable price tag that even a struggling college student could afford.
Although the smell from the well-seasoned meals is enticing on its own, it does not prepare you for the intensely palatable meal awaiting your taste buds.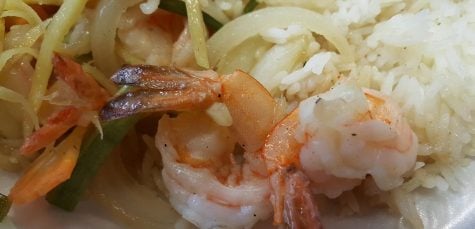 One lunch dish, the Pad Ginger is an excellent example of craft and technique possessed by the chef who also doubles as the owner of the establishment. The dish which includes neoteric ingredients, such as ginger, mushrooms, onions and sliced carrots. It also comes paired with a healthy portion of jasmine rice and protein. For the seafood connoisseur, adding shrimp is strongly recommended, since it comes shelled, thoroughly cleaned and completely deveined.
Balance is shown throughout the dish in both flavor and ingredients. While some restaurants may tend to overload their plates with filler vegetables and skimpy amounts of protein, the Pad Ginger is the complete opposite. The mix of ingredients all have a purpose that together place the entree in a class of its own.
While the dishes may taste like high end cuisine, the atmosphere is approachable and down-to-earth. "Tara," a word often used in Thai folk literature, means "water," and like water, Tara Thai is both relaxing.
The low lighting, creates a pleasant and stress-free dining experience whether you visit in the day or night. Along with a few booths, the restaurant has at least 10 tables to hold small to moderate sized parties.
The restaurant has plans to offer a discount program for Guilford College students and occasionally offers discounts for frequent customers.
Head on over to Tara Thai and tell them The Guilfordian sent you.
Leave a Comment