Breonna Taylor case unfolds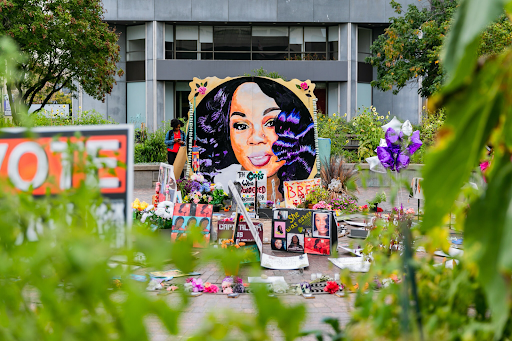 On March 13, 2020, Breonna Taylor was shot and killed in her own home. Over six months after her death, only one of the three Louisville police officers involved in the shooting at Taylor's apartment has been indicted on felony charges. No murder charges have been filed. The Breonna Taylor case, along with the murder of George Floyd on May 25, is of the most polarizing issues of 2020.
Breonna Taylor, 26, was fatally shot in her Louisville apartment on March 13, 2020, in the middle of a search warrant by the Louisville Metro Police Department. Officers Jonathan Mattingly, Brett Hankinson, and Myles Cosgrove executed the search.
Taylor's boyfriend, Kenneth Walker, was with her when the police raided the apartment. Officers originally stated that they identified themselves as police before forcing entry. Walker has since said he did not hear their announcement, and fired a warning shot at the officers, prompting the police to return fire. Taylor was hit six times and died from her injuries.
Originally, officials reported that the single bullet that Walker fired hit Officer Mattingly in the leg. However, the ballistics report from Kentucky State Police does not support Kentucky Attorney General Daniel Cameron's claim that Walker's bullet was the one that struck Mattingly according to USA Today.
The officers involved in the shooting also originally reported that their body cameras were off during the shooting, but contradictory body camera footage has recently been released. The footage shows that Hankinson walked into the crime scene after the incident, which is a violation of department policy.
Bonner Scholar Coordinator Meagan McNeely believes that "at minimum" the three officers involved should have been "fired from their jobs or charged for murder." She, like many others, is discouraged that only one officer was charged, and moreover, that the charge was for "the bullets that missed."
The grand jury that reviewed the Taylor case charged Hankinson with three counts of wanton endangerment on Monday, Sept. 21, to which Hankinson pleaded not guilty. Neither Hankinson nor the two other officers involved in the fatal shooting were charged directly with Taylor's murder according to CBS.
Cameron announced the results of the grand jury proceedings on Wednesday, Sept. 23. The jury found that Hankinson fired 10 shots from outside Taylor's apartment, endangering a man, child, and pregnant woman in a neighboring apartment.
Cameron stated that none of Hankinson's bullets struck Taylor, and determined that the conduct of the other two officers was justified. Hankinson was fired in June, but Mattingly and Cosgrove remain on the force.
Attorneys from Taylor's family have since called on Cameron to release the full grand jury transcript, wondering what evidence Cameron presented to the grand jury, and if any evidence was presented on behalf of Breonna Taylor.
An anonymous grand juror in Taylor's case has suggested that Cameron may have misrepresented to the public the case presented to the panel. According to the juror's attorney, his client wants to make sure that the truth gets out. The juror has requested that any and all recordings, transcripts, and reports of the grand jury relating to the case be released to the public.
According to CNN, Benjamin Crump, an attorney representing the Taylor family, believes that this supports the family's claim that Cameron did not present a "comprehensive case that supported justice for Breonna."
"They came into her space, (she) wasn't doing anything. I just think…they could come into my apartment and shoot me," says senior Carmen Curtis, an Elementary Education major whose friends were involved in the George Floyd protests earlier this year. Curtis was upset at the outcome of Taylor's case and describes Taylor's case as eye-opening.
After months of trending hashtags like #SayHerName and nationwide protests calling for justice for Breonna Taylor, many are rightfully furious after hearing that no one was charged for her murder. Many are horrified that she was killed in her own home, the one place she was supposed to feel safe. They see themselves in her, a typical 26-year-old with her whole life ahead of her. Although her life ended too soon, thousands of people are committed to achieving justice for Taylor, and they will always #SayHerName.
Leave a Comment