Coach Cory Speed returns for another season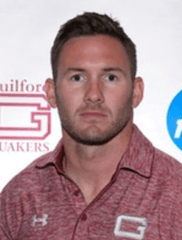 The Quakers men's soccer team kicks off the 2017 season. It has been a productive offseason with head coach Cory Speed coming into his second season at Guilford. Team captain Brayden Currin saw many positives between the spring and fall practices.
"We started on a clean sheet in the spring, as far as our game plan goes," said Currin. "We talked about how we wanted to get better and excel on a new game plan. We made great strides in the spring and did really well with what we were trying to accomplish in the spring."
"We came in August and jumped back right into it, and picked it up fairly quickly. Even the new guys, the young first-year and a transfer, picked it up quickly and we are getting better at it every day. Last fall and last season, we had a totally different game plan than the one we are running now."
The Quakers finished ninth last season with an overall record of 7-9-3, playing in the first round of the Old Dominion Athletic Conference tournament, but falling to Randolph College 3-2. Going into this season, the Quakers were ranked ninth in the preseason polls.
"I think it is a bit low from what we want to achieve, lower than what we think we are," said junior defender Will Thomas. "I could see us getting into the top five of the ODAC, depending on what type of streak we have…we glue as a team and connect on the field and off the field I think we can go pretty far in that aspect."
Speed is implementing a new style of play. The players intend to pressure the other team in its own half and create more turnovers, playing more of an attacking style.
"We were able to build a lot in the spring pressing higher up the field, with aggressive defending higher up the field and aggressive counter attacking as well," said Speed. "So winning the ball and transitioning quickly to goal: those are both things we will look to add. Those are things we started to build in the spring."
The team also worked to improve upon the amount of goals scored. Last season the team averaged one and a half goals per game.
"We would like to average two and a half a game," said Speed.
Sophomore midfielder Ricky Aguilar led the Quakers with seven goals.
"We've got a lot of guys who will score goals," said Currin. "Basically anybody who plays in the front six are all capable of scoring a lot of goals. It's just a matter of capitalizing."
The Quakers play Friday, Sept. 8 at Averett College in Danville, Virginia. The team then returns home on Sunday, Sept. 10 to face Greensboro College at 2:00 p.m.
Leave a Comment