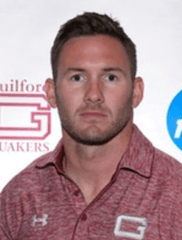 Jonathan Hudson, Staff Writer

September 8, 2017
The Quakers men's soccer team kicks off the 2017 season. It has been a productive offseason with head coach Cory Speed coming into his second season at Guilford. Team captain Brayden Currin saw many positives between the spring and fall practices. "We started on a clean sheet in the spring, as...
DaeQuan Fitzgerald, Staff Writer

September 8, 2016
For the Quakers' men's soccer team, last season is over and done with. This year is about starting fresh. This season, new head coach Cory Speed was introduced to the soccer team this season a week before soccer reported for camp, and his presence has already lifted the team's overall morale. "Coach...