Men's rugby season beating the odds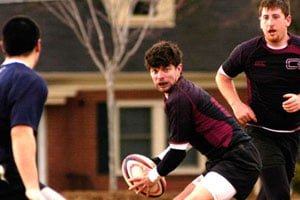 Men's rugby at Guilford is a tight-knit brotherhood. This contrasts sharply with last season when discord caused players to quit and the team to collapse. This season was different as the group was determined to make sure it never happened again.
Rugby is a club sport, so students can come and go as needed. If athletes are not committed, the team suffers.
"We canceled (last season) due to the commitment level of the players," said junior Zach Kronisch, rugby team president.  "The leadership and officers weren't doing the tasks assigned them. The president last year did a poor job of recruiting and that left us with poor numbers to do the work that we need to do."
The lack of leadership poked holes in the fabric of the team causing conflict between members.
"This left a lot of infrastructure problems," said senior Aaron Craig, team captain. "Morale dipped by the wayside, and players stopped coming to practice."
Seeing such a rift left them disappointed but not willing to give up.
"This year, our drive came from not wanting another season like last year's," said Craig. "We've won our last two matches in convincing fashion, and a lot of our first-year and second-year players have really stepped it up."
Players striving for success have created a level of commitment that has kept the team intact.
"Right now, we're at a stable point where we have at least 15 (players) and enough to field at least one or two backups," said sophomore Brandon Wagstaff.
Having plenty of players led to improved results.
"The team is much more competitive this season compared to last," said Dan Hayden, team coach. "Despite the small numbers, they have managed to go 3–1 in the early part of the season with another three matches to go."
The team worked hard this time to avoid internal problems. They practice encouraging teammates, something they take tremendous pride in.
"One of the most positive aspects is that we don't yell at each other during a game, even if someone makes a mistake," said Wagstaff.  "We're like, 'don't worry about it, let's get back out there.' Not yelling at each other is very important."
They also encourage friendship off the field.
"The level of bonding is really high," said junior Ronnie Nguyen. "We know each others' weaknesses and strengths by spending time together."
This helps create the brotherhood and will keep them on track for seasons to come.
"The only obstacle is making sure the season doesn't end like it did last season," said Kronisch. "That the guys stay committed and keep their hearts in it; stay focused on the future of the team and keep the next season going."
One key to maintaining the future of rugby at Guilford is recruiting new members.
"If people try it once, I think they'll like it," said Kronisch with a laugh. "It's a lot of fast action, people smashing into each other –– why wouldn't you want to watch that?"
The brotherhood is not exclusive. Everyone who wants to try rugby is welcome.
"Come play rugby," said Nguyen.
Leave a Comment