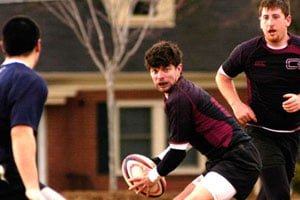 Laura Hay, Staff Writer

March 29, 2013
Men's rugby at Guilford is a tight-knit brotherhood. This contrasts sharply with last season when discord caused players to quit and the team to collapse. This season was different as the group was determined to make sure it never happened again. Rugby is a club sport, so students can come and go...
Linda Catoe, Staff Writer

February 3, 2012
Electric and intense, the action on the court sizzles with the precise cohesion of a team come full circle. Head Basketball Coach and Guilford's Senior Women's Administrator, Stephanie Flamini zones in on her team. In her ninth season at Guilford College, Flamini owns the second place record for...