Sydney Hawkins, Staff Writer

March 29, 2013
Disclaimer: This story is a part of our April Fool's edition, The Goofordian. This story was created by Guilfordian staff and is not based in fact. Swim coaches have taken drastic measures to make sure their athletes swim at record performance during practice. From threatening upside-down push-ups...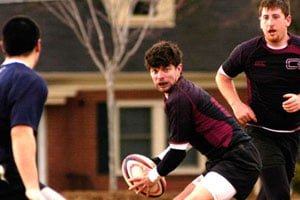 Laura Hay, Staff Writer

March 29, 2013
Men's rugby at Guilford is a tight-knit brotherhood. This contrasts sharply with last season when discord caused players to quit and the team to collapse. This season was different as the group was determined to make sure it never happened again. Rugby is a club sport, so students can come and go...