Power outages and downed trees: Hurricane Ian's impact on campus
As everyone focused their attention on the devastating damage Hurricane Ian left in Florida, Greensboro anticipated heavy wind and storms. Triad-area residents scrambled to take precautions for the incoming hurricane.
According to WXII 12, Winston-Salem's NBC affiliate, the Greensboro Fire Department prepared well in advance for the event. News outlets predicted strong winds, flying debris, possible power outages and heavy rains that could lead to flooding. Deputy Fire Chief Dwayne Church encouraged residents to "take the proper steps to prepare for (the) weekend," advising everyone to stay inside and stock up on plenty of food and water.
Early in the morning of Oct. 1, Guilford College's campus closed as the hurricane got closer and closer.
"Due to the high potential for unsafe weather conditions, the college is closed today," a campus-wide email from the Provost's Office stated.
The email from the Provost's Office declared that classes were canceled, and advised everyone to move forward with precaution.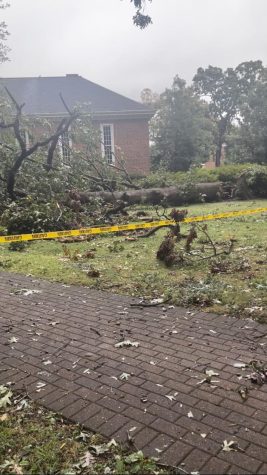 As winds and rain started to get heavier throughout the weekend, everyone stayed inside most of the time. Winds howled through the next day and night and the raindrops pounded on windows as they fell.
At 11 a.m. on Oct. 1, students' phones buzzed with an alert from the College, but by then they already knew the news they were about to receive–Guilford's power was out. The College communicated with students as it worked with Duke Energy, but power wasn't restored to the north end of campus until the following day.
Some students left campus even before the storm arrived in the Triad. Junior psychology major Kailee Hughes, an RA in Mary Hobbs, went home for the weekend. While she was gone, her friends on campus lost power.
"It was crazy to hear that they didn't have power for over 24 hours," Hughes said.
Other students, like senior criminal justice major Tiara Martin, were on campus during the storm. Her power didn't go out, but she said she "was a bit scared" of Ian hitting the campus hard. It was as bad as she had predicted.
When the rain and winds finally died down and power was slowly restored, students ventured out and about. On campus, lots of branches covered the ground. Two big trees on opposite sides of campus were knocked down, and they were blocked off until clearing services could arrive.
Martin said she was relieved that "just a few trees and branches fell on campus and didn't harm anyone."
Hurricane Ian left its mark in the city of Greensboro as well. According to an article on wxii.com, the area "sustained winds of more than 20 mph."
As a result of the winds and heavy rain, tree debris littered the streets of many neighborhoods and residents had to clear out trees that had fallen due to Ian's heavy winds.
After everything had calmed down, workers arrived at Guilford to clear the debris that Ian had left behind, and the campus was soon restored to its normal state, as if nothing had ever happened.
Leave a Comment