Students engage politics on campus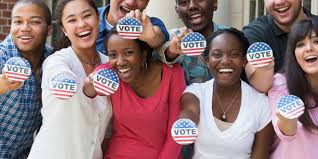 From 9/11 to the Chicago Cubs winning the World Series, history is full of "Where were you?" moments. During such a historic election year, one might ask "Where were you Nov. 8, 2016?"
For Guilford students, however, a better question might be "What did you do during the 2016 election?"
Leading up to Election Day, campus has been busy
In recent weeks, the Office of Student Leadership and Engagement partnered up with Democracy Matters and the Pre-Law Club to host debate and election night showings for students. Meanwhile, OSLE and the Center for Principled Problem Solving provided rides to the polls for students during early voting.
"(Guilford students) have been awesome," said Director of Student Leadership and Engagement Steve Moran. "I've had students reach out to me offering to drive. I know Jennie (Knight) has a PPS course on civic engagement, and those students have been involved in helping us get out the word."
Seniors Sadie Hunter and Holly Haid found a different way to participate in the election as campus coordinators for the Feminist Majority Foundation's Get Out Her Vote Campaign. They registered students to vote.
"I'm impressed honestly," said Hunter. "I've had pretty good results and Holly has had pretty good results with getting people registered to vote, which has been harder in the past.
"I think that this election has kind of engaged more students than past elections, but also I do think this is the presidential election. This is the thing you vote for in the eyes of most people."
Maria Rosales and Kyle Dell, associate professors of political science, offered a class this semester called Ideas, Campaigns & Elections, which allowed students to campaign at all levels of government and learn about the political process from the inside.
Michael McShane, a junior political science major who took the class, worked for Democratic candidate Bruce Davis' 13th District congressional campaign. After a federal court mandated North Carolina redraw its congressional districts last February, Davis ran against Republican candidate Ted Budd for an open seat in the House of Representatives.
"I know that a lot of people in the class have had very different experiences depending on the size of the campaign they're working on," said McShane.
McShane helped put out signs on roadways to boost Davis' name recognition in the 13th District and even helped organize an event where Davis visited Guilford College on Oct. 21.
"When it comes to social issues and when it comes to community issues, Guilford has always been very engaged in making sure that we aren't just influencing our campus but making sure we influence the community around us," said McShane.
Two clubs, however, were not active in getting out the vote: the College Republicans and the College Democrats.
"For the College Republicans, four or five of their executive positions were seniors," said Moran. "So, they all graduated, and there just wasn't a great transition process in place."
Harrison Houlihan, a second-year senior and former president of the College Republicans, said the organization did not re-register with OSLE because of little interest.
"Simply, I slacked on recruitment last year," said Houlihan in an email interview. "We did have four underclassmen that were active last year."
The same fate befell the College Democrats.
"The Democrats went inactive last spring," said Moran. "I think if you wanted to talk about some of the whys, (senior) Devon Murphy-Anderson had been the leader of that group and, again, had struggled with getting folks involved with the club and getting active membership."
There are a few theories why there was little activity from the major political parties on campus.
"I think Guilford students tend to get very energized behind particular issues, particular causes," said Moran. "Often times, those issues or causes don't line up with either traditional political party."
Houlihan expressed a similar perspective.
"Student political involvement at Guilford falls far outside of our two-party system, far to the left exclusively," said Houlihan. "I've seen Facebook statuses from notable campus activists saying that Bernie Sanders wasn't left leaning enough.
"Because of this, activism at Guilford is far more issue based rather than candidate or political party based, which I think is likely more effective. I imagine that this election will cement that for the near future."
Students may be joining a number of U.S. citizens that do not affiliate with a party. According to the Pew Research Center, 34 percent of Americans identified as Independent in 2016.
"There are a lot of students at Guilford who engage in activism that they may not see as political but has a political dimension to it," said Dell. "In that sense, I think a lot of the community engagement that Guilford would be known for touches on issues that are inherently political."
About the Contributor
Ian Penny, World & Nation Editor
Senior
Economics and German studies double major, Writing minor
Ian enjoys simple things like Cook Out quesadillas with Reese's Cup milkshakes. When...