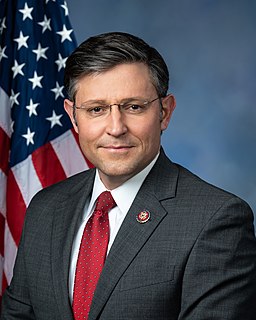 After weeks of chaos and failed resolutions, the speaker of the U.S. House of Representatives has finally been selected. However, Rep. Mike Johnson's ascent to the role of speaker has raised concerns among many Americans. 
When House Speaker Kevin McCarthy was ousted on Oct. 3, there was no clear leader to pass legislation or act as second in line to the president, as reported by The Washington Post.
This led to commotion in U.S. politics, with North Carolina's Patrick McHenry stepping in as interim speaker for just over 20 days, and Rep. Jim Jordan of Ohio failing to secure the position three times in just one week.  Then, on Oct. 25, Louisiana Rep. Mike Johnson was officially elected. 
Although Johnson is relatively new to the political scene, an Oct. 27 Associated Press article reported that some scholars and progressive faith leaders consider him a Christian nationalist because of his highly conservative and religious stances on major issues.
According to an Oct. 27 New York Times article, Johnson, who was elected to Congress in 2016, "believes that his generation has been wrongly convinced that a separation of church and state was outlined in the Constitution."
Johnson has written that homosexuality is an unnatural and dangerous lifestyle, and frequently cites the Bible against LGBTQ+ people. He also introduced the Stop the Sexualization of Children Act of 2022, a bill some consider to be a national version of Florida's "Don't Say Gay" bill, since it would bar any federal funding for educational materials targeted toward young children about LGBTQ+ topics. 
While Johnson received votes from all 220 House Republicans to represent the congressional body, this decision has implications here in the Guilford College community. 
"I do not think Mike Johnson is good for the House. He is not LGBTQ-friendly and quotes the Bible as evidence that they are more likely to commit pedophilia," said LaTaylin Maxwell, a Guilford senior, student ambassador and criminal justice major who is deeply passionate about U.S. politics. 
"Since we have a Democratic president, a Republican speaker in the House is likely to create a lot of contradictions. If Biden passes something to the House, they probably won't be as willing to approve it," Maxwell said. 
Johnson has viewed political decisions through a religious lens on multiple occasions and continues to be open about his perspective regularly. According to the New York Times, he was writing harsh content describing "'a sprawling alliance of anti-God enthusiasts'" as early as 2006 in a column for the conservative website, Townhall.
As quoted by the New York Times, Johnson also stated the following in his Townhall column: "'In the space of a few decades, they have managed to entrench abortion and homosexual behavior, objectify children into sexual objects, criminalize Christianity in the popular culture, and promote guilt and self-doubt as the foremost qualities of our national character.'" 
As reported by multiple media outlets, Johnson was also involved in and vocal about efforts to overturn the results of the 2020 election, showing support for Trump and encouraging him to resist Biden's win during the pandemic.
Some GOP lawmakers, including Rep. Ken Buck of Colorado, previously stated that they would not select a colleague for speaker who had voted not to certify the 2020 presidential election results. This clearly did not stop Johnson, as House Republicans unanimously supported him.