Women's lacrosse preps for ODAC games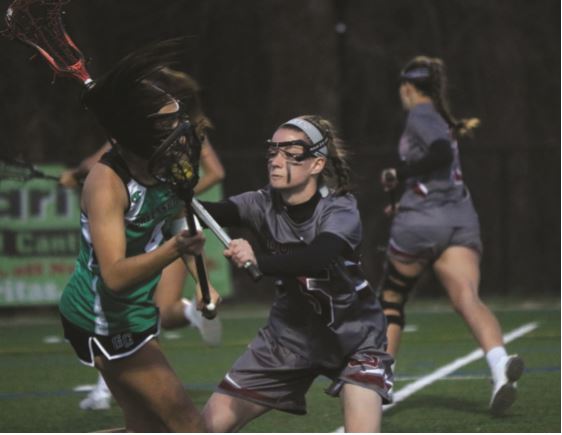 For the women's lacrosse team, the Old Dominion Athletic Conference tournament is less than a month away. With only six more opportunities to move into one of the top spots, head coach Sarah Lamphier and her team look to find answers for their struggles and keep building on their strengths.
The Quakers sit fourth in the conference right now at 4-6 overall, 1-1 in ODAC play. Statistically, the team is one of the stronger squads in the conference, but has seen some struggles on the attack. Their 77.4 percent shot on goal percentage ranks eighth, which is something Lamphier looks to work on in their remaining games.
"We have some really great shooters and we can get great shots, but at times it can get a little inconsistent," said Lamphier. "We are trying to set up drills that incorporates shooting."
Sophomore attacker Amanda Dionne leads the team in goals, points and shots on goal. Her 31 goals ranks second in the ODAC, while her 37 points and 38 shots on goal both rank third. Dionne also earned Week 29 ODAC Players of the Week on March 27 for her five goal performance in the 11-10 victory over rival Greensboro College. She hit the go-ahead goal with 53 seconds remaining in the game to secure the win.
The Quakers saw a similar nail-biter last Wednesday, March 29, in a 13-12 win over Lynchburg College. Before the matchup, Lynchburg outscored their previous two opponents 33-2.
"We know what we are able to do not just individually but as a team," said Lamphier. "(Lynchburg) was the epitome of grit, hard work and team work."
But the success was short lived and the Quakers fell hard to Randolph-Macon College at home that Saturday, April 1. The Yellow Jackets left with a 17-6 victory, where Guilford loss the draw control battle 17-9 and only took 18 shots compared to Randolph-Macon's 30.
"We fell into bad habits and part of that is the mental piece," said Lamphier. "That's a lack of a focus."
The team is typically strong defensively. Guilford is second in the ODAC with 207 ground balls and senior goalkeeper Sammi Milbourn's 83 saves ranks third.
"(Randolph-Macon) was one of our weakest defensive performances," said Lamphier. "But defense has been an absolute strength of ours."
What Lamphier looks to work on with the team is taking control and commanding the game from the defensive end.
"On defense, you can't be passive," said Lamphier. "You have to be just as aggressive on defense as you are on attack and force your opponent to make mistakes."
The game will act as a test of mental toughness and ability to bounce back with more challenges ahead in the conference.
"In our conference, each game is anyone's game," said Lamphier. "It is a matter of who shows up and performs together. I feel like it's like that in any team sport. It's about the team that's really going to show up and be mentally tough enough to make adjustments."
Guilford returns to action tomorrow, April 8, in an away matchup at Virginia Wesleyan College. The Quakers beat the Monarchs last year, 20-10.
Leave a Comment