Senior prepares for future after Guilford
Houston talks basketball, whats coming for the team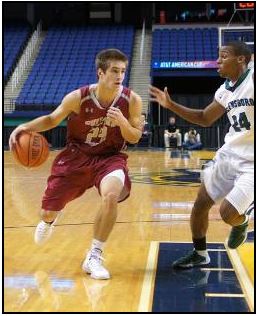 Guilford senior point guard Zachary Houston leaves behind a progressively building basketball organization, but takes with him several unforgettable memories and friendships.
Entering Guilford his first year, Houston received playing time in all 26 of the Quakers basketball games. He helped the team defeat Greensboro College, 77-65, to kick off the season, as well as a key victory over Averett University, 94-91.
"I was recruited (at Guilford),"said Houston. "I definitely wanted to keep playing basketball. I knew this college is well known for its academics and basketball, so this gave me a chance to further my education, while continuing to play basketball."
This season, Houston was a key asset to the successful offense of the Quakers. During his senior year. he ranked fifth in the conference in rebounds per game with 7.7 rpg, fourth in assists with 3.7 apg and third in minutes per game with 34.0 mpg, leading his team to an Old Dominion Athletic Conference championship title and an appearance in the NCAA Division III tournament.
During his four-year tenure at Guilford, Houston developed a strong relationship with his basketball team, as well as head coach Tom Palombo.
"Coach Palombo and I developed a pretty great relationship," said Houston. "He is someone I look up to and have a ton of respect for. He taught me about basketball as well as life in general.
"He has helped improve me as a person overall."
When prompted to speak about Palombo's personality, Houston laughed before answering.
"He is actually a pretty funny dude"said Houston. "His sense of humor is pretty cool."
One big struggle Houston encountered was leading the basketball team.
"I would say leading the team was something that I was challenged with," said Houston. "There was Michael Reiney, Dominque Henderson and I who (were)all seniors. Then there is Carson Long who is a sophomore. We had to make sure everyone was on the same page in practice and in games, also."
In the second round of the NCAA Division III tournament, Guilford was defeated by Marietta College, 88-64.With this game marking the end of his career as a Quaker, Houston commented on the loss and what went through his mind. "Playing against a team from Ohio was a pretty cool experience," said Houston  "It was definitely an amazing atmosphere. Keeping everybody focused and playing the game was pretty tough.
"In the end, they had a better day than us and the crowd out there helped them with that."
Houston stacked several awards in his final year as a Quaker. Leading the ODAC in steals with 62, and steals per game with 2.1, only brush the surface of what he has accomplished. Another accolade is his career high 16 rebounds collected against rival Greensboro College.
Even with Houston's impressive resume of awards and recognition, he does not believe them to be the most cherished aspect when looking back at his career.
"I would say winning the ODAC Championship would be (my top)accomplishment," said Houston. "It is the first time, with me being a part of the team, that we have done it. I would also say being able to compete in the NCAA tournament was pretty cool as well."
Houston is very optimistic for the future of the Quakers' basketball team, and looks forward to their success.
"Another cool accomplishment was being able to set the program up for future success," said Houston. "The future is bright and I think we have made a difference."
Houston plans to complete his Health Science Exercise and Sports Science double major where he will then pursue becoming a physical therapist. Houston will take a gap year after graduating, where soon after he will look towards graduate school.
"I want to go somewhere in state," said Houston. "UNC (The University of North Carolina at Chapel Hill) is probably my number one choice."
Many of Houston's skills and achievements that he has attained and accomplished with the Quaker's organization is shown clearly. However, a trait that is not so palpable is his character and ability to think beyond himself and put the team first.
Leave a Comment