According to BreastCancer.org, over 246,000 women are expected to be diagnosed with some form of breast cancer in the United States in 2016. It is also estimated that one in eight women will develop invasive breast cancer sometime over the course of her life.
This year over 40,000 women will lose their lives to breast cancer. And although that number has been declining, more work can still be done.
One of these ways is to encourage women to receive regular breast cancer screenings. Spreading awareness about the disease and its dangers has been vital in boosting the health of women not only across the nation but also around the world.
It is important to remember that it is a disease that is not gender specific and it affects millions across the globe, both directly and indirectly.
The American Cancer Society states the best way to combat breast cancer is mammograms, or X-rays used to spot signs of breast cancer. The American Cancer Society along with Imperial Chemical Industries' pharmaceutical division founded National Breast Cancer Awareness Month, which is a campaign held in October promoting research, treatment and overall support for those affected by the disease.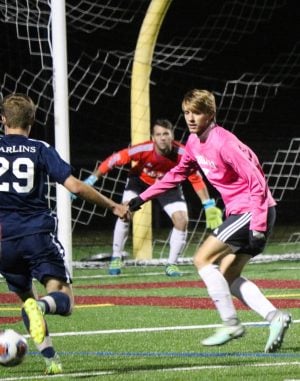 Athletes across the country of all sports can be seen sporting pink attire or equipment in support for the cause. The roots of this symbol of respect by athletes dates back to 1999.
A group of women from the sorority Zeta Tau Alpha in northern Virginia approached the Washington Redskins about holding an event to spotlight awareness for the disease. Daniel and Tanya Snyder had bought the team that same year. The movement these women were supporting intrigued Tanya.
Tanya and the sorority handed out 8,000 homemade pink ribbons to fans during the event. She and ZTA continued the event over years, spreading it to more and more teams.
She was diagnosed with breast cancer herself in 2008. Now, Tanya is a national spokesperson for Breast Cancer Awareness.
Since the NFL officially adopted the campaign in 2009 in a partnership with the American Cancer Society, players are allowed to wear pink on the field. The NFL has raised nearly $15 million for the American Cancer Society through merchandise sales of breast cancer awareness attire and equipment that is pink. The NFL does not profit from sales. All revenue goes to the American Cancer Society for breast cancer research.
The movement has spread beyond professional sports, and now athletes of all ages and levels elect to wear pink during October. Many athletes here at Guilford College sport pink in support.
The women's soccer team has warmed up in pink every game in October and held their Breast Cancer Awareness Game on Oct. 26 against Emory & Henry College.
"The more educated and aware people become of the cause, the more likely it is for a solution to arise," said sophomore midfielder Lauren Culler.
For some on campus, the cause is personal.
"I have a family member that suffered from breast cancer," said junior defensive back Dee Jones. "That's why (wearing the apparel) is important to me."
Men's soccer has also worn pink jerseys throughout the month.
"We wear pink to support the overall cause," said senior forward Kyle Bias.
Many Quakers have shown their support for awareness of a disease that has affected millions of women across the U.S. and the world and will continue to do so throughout their seasons.
Keep an eye out as athletes continue to spread awareness every October.