Off-season athletes prepare for spring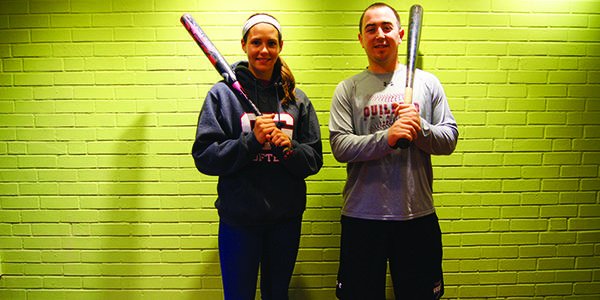 When I first began writing this article I found that I needed a bit of help to jumpstart my writing. I found myself searching for the meaning of "offseason" on the Internet.
In my search I found this common quote that said, "The best athlete is made during the offseason."
Defining "offseason" had become a mission for me because I quickly realized, as I spent time in the Department of Athletics via the Internet, that our student-athletes do not have what one might call a typical "offseason."
"I personally think there is an off-season, or at least I hope as an athlete you have an off-season," said Kyle Humphrey, junior infielder on the Quakers baseball team. "Your body and mind need a break from the intense focus and everyday grind that is the season.
"For my offseason I spend my time in the weight room trying to get faster and stronger."
At the end of fall and during the winter, the playing fields are not as congested as you may find in the spring term. While one would think this is because the offseason has reared its ugly head, the truth of the matter is that the athletes have taken refuge in a different location in the name of devotion.
"Even when it is your 'designated' offseason as an athlete you are responsible for keeping in shape, getting stronger and building your techniques," said senior softball outfielder Calli Pastor in an email interview.
For the world outside of Guilford, fall means the changing of leaves, holiday decorations being displayed in stores a month ahead of time, flavored coffees and the wrapping up of fall sports. For our students at this moment in the fall term, making it to the end of the semester is all that matters. However, for a student-athlete, fall during offseason means engaging in a balancing act. After all they are both students and athletes and the Guilford coaches ensure that our Quakers are going just as hard in the classroom as they do for their chosen sport.
"We start athletically in the middle of September and go through the middle of October," said softball coach Dennis Shores in an email interview. "Prior and after that, the girls work out and practice on their own.
"We have weekly study halls starting the second week they are in school and continue all year. We plan our community service projects, have scheduled academic meetings and start our fundraisers for the year. Over half the team are double majors, so as you know, the academic schedule alone is demanding."
My knowledge of the athletes behind the sport consists of the classics like "Friday Night Lights" and "Hoosiers." So I came into this story thinking athletes worked hard, but I truly did not know what that meant. But in order to work that hard you have to love what you are working hard for.
"What helps me keep motivated and dedicated to my sport is the simple notion of how much I love playing it," said Pastor through email. "I know it sounds cliché, but I love winning, love being on the field surrounded by my friends (and) family who love the same thing."
On Guilford College's webpage that explains our core values, mission and strategic plan, I came across these words:
"Core Values are not developed as much as identified."
The coaches that help to lead our athletes help to identify the core values Guilford stands on.
"My passion for coaching comes from watching the student-athletes improve and compete at the best of their ability," said track and field head Coach Danny Cash in an email interview. "Helping them to grow and become better athletes, students and people in general is my primary goal."
In between classes, I like to sneak out to the parking lot around 6:30 p.m. and stare out onto the Haworth East/West Field, because hardly anyone is there, which makes it a welcoming quiet. Every once in a while I may see a student taking a walk. While the "offseason" fields are not in use, I hope that they know they are never forgotten.
"Leaving the field on your last game of the year is an awkward feeling for me," said Humphrey. "It is something I am on every day giving my all towards, and then it's over for a while. Even though you will have practices before and all that, it still isn't the same.
"When you return for your first game, it is a feeling that is hard to put into words. Baseball is such a pure game to me and that is why I chose to play it over other sports. Something about running on to that field in early February with the rest of your teammates is just something that can't be matched."
Leave a Comment