Kobe Bryant's Achilles heel injury hamstrings Lakers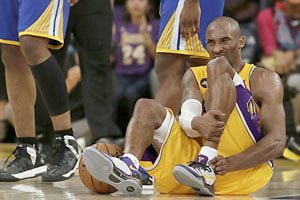 Kobe drives left towards the basket. What's next, an electrifying dunk? His unstoppable pull-up jumper? Bryant goes down. Is this a dream?
Bryant was leading a charge to push the injury-plagued Los Angeles Lakers into playoff contention after an incredible individual season. This may have been the 34-year-old's best season yet until the move.
On a simple dribble to the basket against the Golden State Warriors, Bryant's memorable season came to an end. An MRI showed a torn Achilles tendon. Just the night before, the Black Mamba had scored a dominating 47 points against conference rival, Portland Trail Blazers.
This season, the Lakers have been burdened with team chemistry and coaching changes, yet Bryant has still managed to make a push for the playoffs. The only playoffs Bryant will see this year will be in front of his big screen.
Bryant is expected to be out nine months with an injury Guilford College Head Athletic Trainer Gary Rizza called "possibly career ending."
How could something like this happen to an elite athlete who keeps himself physically in shape year-round?
"Fatigue may have something to do with it," said Rizza. "Then again, it could be anything."
"The Human Highlight Film" Dominique Wilkins had the same injury when he was 32 after years of rim rocking. Wilkins rehabbed for 11 months after surgery and returned successfully the next season to average a stunning 30 points per game.
Bryant knows how to work hard, so there is no question that he will be back next season. The question is will he still be able to perform up to Kobe standards?
"Kobe is the best player in the game with a tremendous amount of talent," said Caleb Kimbrough, assistant basketball coach. "I expect a full recovery and a productive season from Bryant next season."
Some aren't as optimistic about his return. Too many variables must be answered.
"I believe Kobe will be back next year, but I do not know if he can maintain the numbers we are use to seeing from him," said Terry Whisnant II, Florida State University shooting guard. "It's a serious injury combined with old age. It should slow him down a good bit."
Known for his tremendous work ethic, it's pretty much a fact that he will rehab to be game-ready by next season. But, will he be able to handle the number one option duties? Bryant was in the top three for minutes played this season, and he's not getting any younger.
"Even if you take Kobe out of a game, there's a lot of times where he'll just get up and put himself back in," said Laker General Manager Mitch Kupchak according to InsideSocal.com.
At the tender age of 34, Bryant monitored his own minutes without regret. Coach D'Antoni, grow a pair and sit your best player down.
The NBA is just not the same without number 24 on the floor. The Lakers without Bryant is like Kool-Aid without sugar.
Get well Mamba, get well.
View Comments (2)