Winter, a season of giving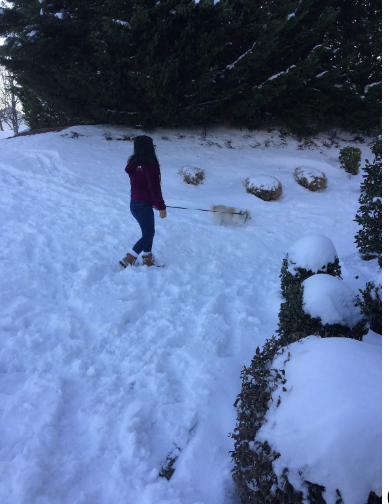 Growing up in Ohio, having a "white Christmas" was my norm. The holiday season was always my favorite time of the year. The movies, activities and time spent with family and friends made it all more magical.
For as long as I can remember, seeing the first snowfall was always enchanting. At first it would snow just a bit, but then, in the blink of an eye, there would already be a couple of inches on the ground. I remember playing in the snow with my brother and sister, and I can still see my dad plowing the driveway.
I think I used to hate winter at one point because of how cold it would get. Over time, I have learned to love it and see it for its beauty and meaning. One of my favorite activities was riding on a real-life version of the Polar Express with my family. There was a train that would ride around, with people serving hot cocoa and delicious Christmas cookies. Kids would have their PJs on, and the workers were dressed as elves. Even Mr. and Mrs. Claus made an appearance. The train whistle would blow, and it felt like you were a part of the movie.
Another one of my favorite winter memories happened at my church. The church had a big Christmas tree with name tags on it, and each name tag featured a child or adult's name, age, and what they were wishing for. My family always taught me to give back, so being able to pick a present for someone else was something I looked forward to each year. Then, we would wrap the gifts and send them off.
Another tradition was going ice skating. I loved roller skating, so ice skating was kind of second nature. My parents knew a family from our church and we would all gather to go skating, decorate cookies and drink hot chocolate. The slippery ice was challenging, but we all had a blast.
Holiday parties at my relatives' houses were always so much fun. No matter the distance, getting together with family always gave me that warm feeling. At school, there was so much to do. One weekend day in December, my elementary school would have a festival for all of the students and families. There were arts and crafts, meet-and-greets with Santa, yummy food and even a mini gift shop where the kids could get presents for their families.
When my family and I moved to North Carolina, it was definitely different because I have no relatives here outside of my immediate family, so when the holidays came, it was a little bit lonely. As my family and I were getting settled, being away from our other family members made it difficult. Our first year here, we decided to go to the movies on Christmas Eve and then go back home and open one gift. This would become a tradition, along with going on drives to see lights.
Because Ohio had snow and cold temperatures, North Carolina was much warmer than I was used to. I liked it during the spring and summer, but it felt so odd to me when I did not see any snow on Christmas Day. Snow in North Carolina would always come so late, but I always loved it when it came because it meant we were bound to have days off from school.
For me, the winter and holiday season is about getting together with friends and family and celebrating any tradition. No matter the weather, doing fun activities and seeing people makes it all worthwhile. The winter season brings lots of fun and cheer.
Leave a Comment