Let's look into Public Safety Anderson qualifications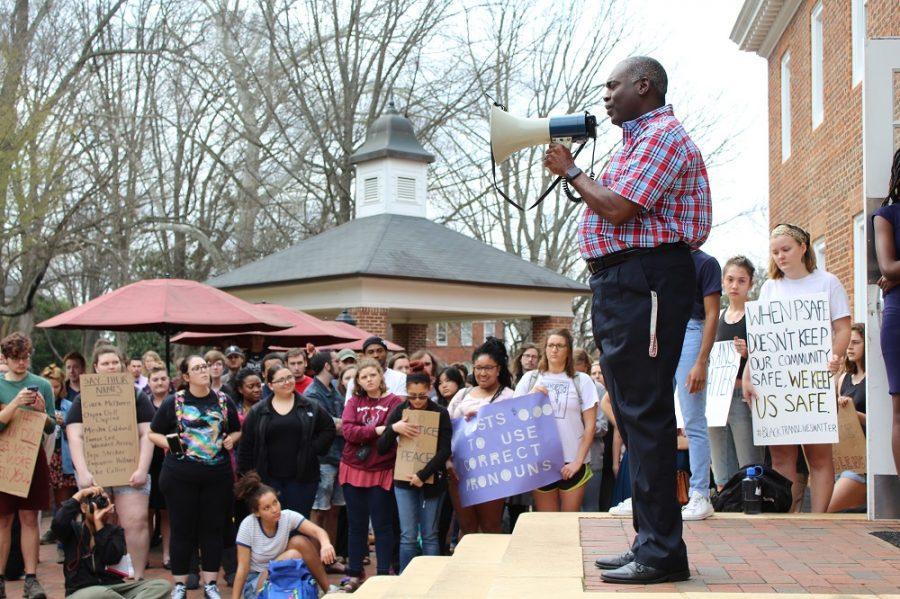 On March 16, 2017, I walked into the Public Safety department in Bauman Hall at around 9:50 a.m. to get information for an article I was co-writing about William Anderson, the current director of Public Safety at Guilford College.
I asked the woman at the front desk if the Public Safety officers were there. "Yes, they're always here," she said. With all the criticism the department was getting at the time, it was understandable that she wanted to be very clear of the officers' commitment to their jobs.
I asked to speak with them on behalf of The Guilfordian. She went back to see if they were willing to.    
"They are not available to talk right now," she said.
This could have been because they did not want to take up time from their shifts or engagements such as meetings. Or it could have been because they did not want to speak to me, as I was going to use the information in a newspaper article.
But this refusal to interview was echoed by almost everyone that my co-writer and I tried to speak to. We reached out to sources from the city of Asheville, where Anderson previously worked, Anderson, and a reporter who had written an article about Anderson previously, but no one was willing to talk.
Before coming to Guilford, Anderson was chief of the Asheville Police Department from 2012 to 2014. According to an article in the Citizen-Times, published in November of 2014, a quarter of the officers raised concerns about the police department's leaders a month prior to Anderson's retirement from the department. In addition to the petition by the officers, Anderson had also publicly claimed that his son was not responsible for a car crash, although the investigation of the crash was still ongoing at the time.
Prior to working in Asheville, Anderson worked as the chief of the DeLand Police Department in Florida for three and a half years. According to the Orlando Sentinel, a commander in the DeLand Police Department had filed a 22-page grievance against Anderson and the city commissioner had also called for Anderson to step down.
After resigning from chief of the DeLand Police Department, Anderson worked as chief of police in Elizabeth City from 2003 to 2006, in Greenville from 2006 to 2012 and in Asheville from 2012 to 2014, as previously mentioned. Although it is clear that Anderson has extensive experience in law enforcement work, he stepped down from several positions surrounded by controversy. He seems to have left Elizabeth City and Greenville amicably.
With a controversial past career, why is Anderson the Public Safety director? It is difficult to answer this when most people refuse to talk about it. The one person who did respond to a follow up email back in March was President Jane Fernandes, who was involved in the process of hiring Anderson.
I emailed her eight questions to get information for the previous article that was never finished. In response to the question, "What was the reasoning behind hiring William Anderson as director of Public Safety?" Fernandes wrote, "William Anderson came to us with exceptional experience and expertise that includes many years of service in creating safe communities."
Another question asked if Fernandes knew about Anderson's background in the Asheville police department. "I am very familiar with the full breadth and context of William's professional experience and performance," she wrote.
We decided to stop working on the article before reaching out to others who hired Anderson, so it is unclear if the administration hired Anderson with or without knowledge of the specific controversies from his previous jobs. Either way, these controversies raise questions as to how effective Public Safety can be with Anderson as director.
Last month, Anderson and the Public Safety department were the subject of student protests after they failed to promptly send out an alert after an alleged sexual assault was reported and Anderson had misgendered the student who reported it multiple times.  
While students were trying to hold Anderson and Public Safety accountable, they were probably unaware of Anderson's past. Public Safety is responsible for the protection of students. As such, students deserve to know who is fulfilling this responsibility and what experiences they have had.
Given Anderson's past, perhaps students and the administration will realize that he may not be the best choice to direct Public Safety at Guilford.