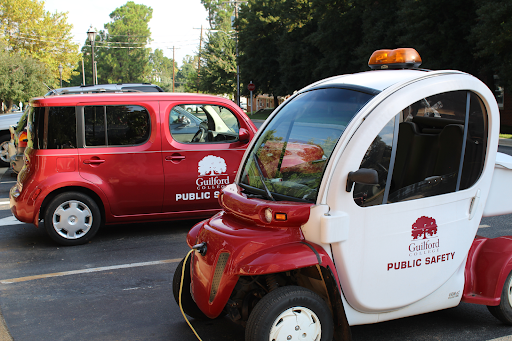 On Aug. 28, members of the Guilford College community received the following email:
"Public Safety has received reports of multiple breaking and entering of vehicles that occurred during the late night/early morning of Sunday, August 27, 2023 and Monday, August 28, 2022 in various areas on college-owned property. The individual(s) responsible walked through parking lots pulling on door handles until they found unsecured vehicles to rummage through."
According to Guilford's Office of Public Safety, an investigation is ongoing, and Public Safety had no further comments when contacted by The Guilfordian on Aug. 30.
According to information posted on the College's website, Public Safety staff  "have the authority to ask people for identification and to determine if they have legitimate business on campus.  Public Safety officers also have the authority to enforce parking violations. However, as stated on Guilford's website, "Public Safety does not have the authority to arrest; criminal incidents are referred to the Greensboro Police Department, whose jurisdiction includes Guilford College."
Services to promote safety on Guilford's campus include blue-light emergency phones that immediately connect users to Public Safety at 336-316-2909. More information is available at https://www.guilford.edu/life/health-and-safety/public-safety
In response to the recent vehicle break-ins, Public Safety has provided the following safety tips:
Always lock your vehicle in residence halls at all times.
Completely close and lock all doors in your vehicle and your residence halls windows.
Do not leave any personal items in view.