Guilford hosts Sex and Wellness event for students
On Sept. 21, Jamison Sellers, a licensed therapist at the Guilford College Counseling Center led a Sex and Wellness event in Founders Hall. Students walked up to an organized red table with QR codes linked to information and resources, free safer sex tools, stuffed animals that represent STIs and free snacks. 
Sellers focused on creating the Sex and Wellness event to be accessible, informational and comfortable. Most importantly, she wanted to create a space for students to learn. She explained her thought process when planning the event.
"How can students be engaged, but also, how can they feel like it is a very low risk to do so?" Sellers explained. "I offered the sexual health quiz, which is completely anonymous…The student can stand in front of the iPad, and take the quiz. Nobody is looking at the student, and nobody sees them take it, so that on their own (they) can see and think, 'What do I know about sexual health? Do I want to learn something? Or do I feel like I know enough?'"
Sellers then answered any questions that the students had and offered resources through QR codes on the table.
Students had questions at the event, but that makes sense given the huge gap in sexual health education in America. According to Planned Parenthood, 39 states and the District of Columbia are required to offer sex education, but the individual school districts decide the curriculum. The CDC recommends 20 topics to be taught, but fewer than half of high schools in the United States teach all of the topics. Guilford College can help bridge this gap with events like the one Sellers hosted. 
Julia Meyarzum, advocacy, engagement, and events specialist at the Triad Health Project, a non-profit that promotes sexual health in Guilford County, agrees that it is important for colleges to host informational events about sex and wellness like Guilford's.
"Oftentimes, when young adults are starting college, sometimes it is their first time interacting with sex at all and so just having a place where they can learn about how to have safe sex, and how to have positive sexual experiences…is really important!" Meyarzum said.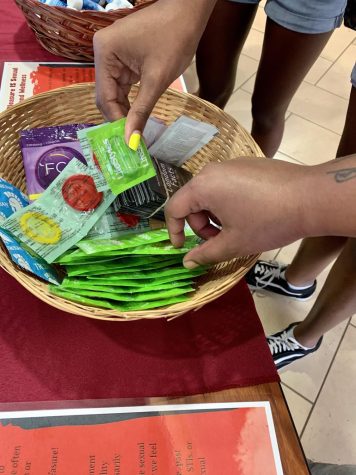 Society as a whole shies away from linking sex and wellness together, leading to more shame and barriers to open communication about sex, Sellers said.
"I think knowing how to connect with ourselves–whether that is connecting for pleasure, for health or just logistically knowing of our body or anatomy–I think all of those things contribute to feeling positive about yourself and feeling like you can communicate, have autonomy, trust yourself  and have control of your experience in life," Sellers said. "And I think that is where sexual education/sexual health comes into play, because, so often, that feels not in control for a lot of people. By having these conversations and helping people understand that their experiences should be individual… that is what ultimately contributes to your mood, how you perceive people (and) how you experience relationships."
According to Sellers, it's important for the College's faculty and staff to build a positive culture when it comes to sexual and wellness issues.
 "…I really think that it is imperative that we (faculty/staff) take responsibility as people who know what students need, (and) know what is helpful to students to create an environment where they feel safe, comfortable or they feel curious," Sellers said.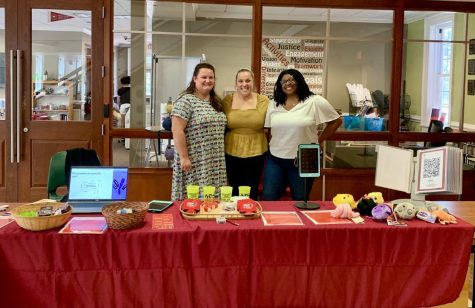 Leave a Comment