Activists challenge campus, advocate action
Events celebrate black lives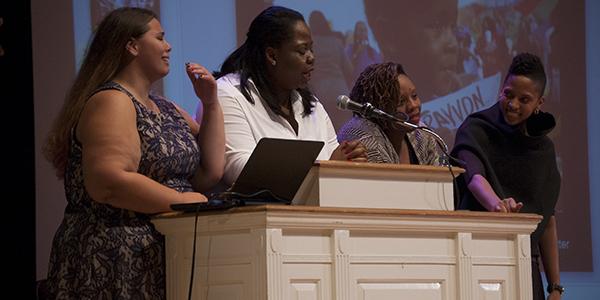 "What have you done to save black lives?" said Patrisse Cullors, co-founder of the Black Lives Matter movement to the audience at "A Night with Patrisse Cullors."
Cullors came to speak at Guilford College in honor of #BlackLivesMatter Week in Dana Auditorium on Oct. 27.
Janaya "Future" Khan, leader of the Toronto chapter of the Black Lives Matter movement, also spoke.
"Forty-nine years from now, when you are asked what you were doing when black people were freed, make sure you have an answer you are proud of," said Khan.
October marked the 49th anniversary of the founding of the Black Panther Party.
"I certainly support (Black Lives Matter) and feel strongly about it, so I was really happy that we were able to get one of the national founders to campus." said Chair and Associate Professor of Philosophy Lisa McLeod. "I just was very, very excited about Patrisse Cullors coming here."
On Oct. 28 at 1:30 p.m., a panel took place in the Leak Room.
The panelists included Holden Cession, a local activist who is a member of the Black Lives Matter Greensboro, April Parker, the leader of Black Lives Matter Greensboro, Barbara Lawrence, chair and associate professor of justice and policy studies and former NYPD officer, DeMonte Alford, an organizer involved with the Black Lives Matter movement in Greensboro, and Claudia Lacy, mother of Lennon Lacy, whose death by hanging in August 2014 was initially labeled a suicide but is now being investigated by the FBI.
"We wanted to have conversations about how racism and prejudice show up on this campus, and about how Guilford still needed to be held accountable — even with this social justice stamp we have," said co-organizer of #BlackLivesMatter Week and senior Teresa Bedzigui in an email to The Guilfordian. "I think we did that."
On Oct. 29, there was a speak-out held in Founders Hall. All community members were welcome to come and share their thoughts and feelings related to #BlackLivesMatter Week at Guilford.
The final event was a poetry night held downtown at Scuppernong Books on the evening of Oct. 30 in a black-autonomous space. The event featured many artists, including D. Noble, a well-known local spoken-word poet.
"I am so thankful to have the people who are supporting Teresa and I," said co-organizer and junior Brandee Craig in an email to The Guilfordian. "It brings happiness to my soul. It reminds me why I do the work that I do on a daily basis.
"Tuesday night reminded me why I love working in the community and bringing uncomfortable conversations to the table."
Unfortunately, after "A Night with Patrisse Cullors," Bedzigui and Craig reported seeing many racist comments posted on Yik Yak in response to the event.
"It is not that hard to crack open a history book and notice the oppression towards people of color," said Craig.
"It blows my mind that I am going to school with some of these students who are not willing to open their mind and understand a different perspective or … to have someone educate them when they are wrong."
While disappointed, Craig and Bedzigui were not surprised or shaken.
"Across the globe, I want people to realize, accept and revel in the fact that black lives matter in practice — not just in theory or through the movement, but because we exist," said Bedzigui. "Because by the grace of the universe, we are still here. That's my hope — for our existence to not be questioned, dismissed, cut short, terrorized, traumatized but for it to be celebrated. One day."
Leave a Comment