Soy un Lider: inspiring and empowering future leaders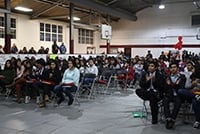 "About 11 years ago, I was sitting in your place," said Jada Drew '07, director for Educational Initiatives and Partnerships. "I was trying to find my place, trying to figure out what it was that I wanted to do.
"You're here to be closer to finding your passion. You're here to learn what it to takes to be a better leader."
Thus, on Nov. 22, Soy un Lider began.
Hosted by Hispanos Unidos de Guilford and the Multicultural Education Department, Soy un Lider is a student-run conference for Hispanic, Latino, international and refugee students from the Guilford, Alamance, Forsyth and Davidson counties. Volunteers from the College visited high schools and middle schools and presented on the college application process and encouraged students to attend the conference.
Among the keynote speakers was President Jane Fernandes.
"Don't give up on your hopes," said Fernandes. "Always bring your best self to every place and every situation. No matter how hard or challenging it is, be yourself."
Yamile Nazar, keynote speaker and mother of one of the attendees, had different advice to offer.
"Do you ever feel like a fish out of water?" said Nazar, as a sea of arms rose. "We are bicultural and we are bilingual. Understanding this is important because when you feel like a fish out of water, you know why.
"You are as American as apple pie. Just with arroz and beans on the side."
This year, 400 students registered for the conference. Of those, more than 300 attended, marking the biggest conference since its inception.
"It was really interesting going to high schools and presenting," said senior Eli Cloonan, a volunteer. "I strongly believe that this a incredible thing to do to get kids from high school, who many not otherwise consider going to college, to go to college."
The conference was comprised of a series of seminars, covering everything from the college application process to empowerment to financial aid. A parent session was also held to answer questions about college.
Irving Zavaleta '08, co-founder of Soy un Lider, was one of the team leaders that led a seminar on empowerment.
"I went from two month in the U.S., not knowing any English, not knowing even the words to 'Happy Birthday', to right here, presenting to you," said Zavaleta. "So, si se puede (you can do it), you can be a leader."
Co-chair of the conference and sophomore Gerardo Cruz explained the importance of Soy un Lider to students.
"We want students to come to the conference and feel accepted, feel like they are getting good information about application process and options after high school," said Cruz. "It's very much (about) empowerment and giving them the information they need for future steps."
Many of the volunteers had personal connections to the conference.
"It was a passion of mine because a lot of my friends, especially undocumented friends, didn't get the resources they needed," said former chair of Soy un Lider Joyce Medina '14, who volunteered at the conference. "A lot of them wanted to go to college, but they didn't know how to, and our counselors barely knew how to help up."
Many attendees shared a similar story, and attended the conference to learn more about applying to college.
"We're from Puerto Rico," said high school sophomore Abdiel Rodriguez. "My parents didn't have a chance to go to college because of money. I didn't know if I wanted to go to college, and if I did, I didn't know where to start. My ESL teacher told me about it (Soy un Lider), so I came to learn."
A college fair was held in the alumni gym, bringing representatives from colleges like Western Carolina University, University of North Carolina Charlotte, North Carolina State University and Salem College, among others.
"We feel grateful that we get invited every year," said Xiomara Villatoro, an admissions counselor from Salem College. "We came to Soy un Lider because we like to help out students, talking to them and helping them figure out the college process. It's a way to get more students to come to Salem and for students to get recruited and have their inquiries answered, and it's a win-win for both of us."
The conference was a win-win for both the College and attendees. Many students left with a desire to apply to college, giving Guilford volunteers a sense of gratitude and elation for the success of Soy un Lider.
"I'm really happy that Guilford has invested in developing the next generation of Latino and international leaders," said Zavaleta.
Leave a Comment