Ian Penny, World & Nation Editor

October 22, 2016
To live up to its mission, Guilford College needs an Office of Diversity and Inclusion. For some members of the Guilford community, I'm sure it doesn't feel awfully long ago that former President Kent Chabotar announced the Administrative and Program Services Assessment initiative. It took...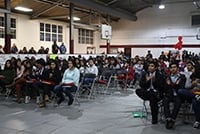 Valeria Sosa, News Editor

December 5, 2014
"About 11 years ago, I was sitting in your place," said Jada Drew '07, director for Educational Initiatives and Partnerships. "I was trying to find my place, trying to figure out what it was that I wanted to do. "You're here to be closer to finding your passion. You're here to learn...