Lesly Vasquez, Staff Writer

March 27, 2015
"Yo soy mí lenguaje, pero no abuses." Speaking two languages, I get asked one question almost daily: 'How do you say this in Spanish?' It's always very comforting to know that I just helped somebody expand their knowledge on something, even if it's small. I especially enjoy it when the pe...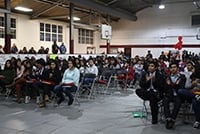 Valeria Sosa, News Editor

December 5, 2014
"About 11 years ago, I was sitting in your place," said Jada Drew '07, director for Educational Initiatives and Partnerships. "I was trying to find my place, trying to figure out what it was that I wanted to do. "You're here to be closer to finding your passion. You're here to learn...