Black Student Union hosts talent show for students
Thirty pairs of eyes stared in anticipation at the pink neon lights covering the stage. In a small, crowded and dimly lit room, framed by a drum set in one corner and boxes of pizza in another, they waited for raw talent to start.
On Feb. 24, students gathered at the Community Center for The Element, a talent show hosted by the Black Student Union.
First to perform was first-year Phillip Williams with a rap called "Let it Flow."
"This pain in my heart won't break because all I do is worry every day," he rapped as the audience drowned him out with cheers. "We are always held back by the things we won't let go, so I let it go, I let it flow."
While the lyrics are powerful on their own, the song has a personal message for Williams.
"Music has been my outlet for all my problems and frustration since I first started playing piano eight years ago," said Williams. "I decided that instead of letting all this anger, hatred and sadness stay bottled inside of me, I would let it out through words.
"The meaning of this song is to use whatever you're passionate about and use it in a positive way, not only for yourself, but for the world to hear what you have to say. My goal for this whole project was to inspire others and for those people to inspire others."
Following Williams, sophomore Troy Taylor and junior Kimberleigh Crump performed as a duo. Taylor played the piano while Crump rocked the microphone.
"Kimberleigh and I wanted to do an Alicia Keys song," said Taylor. "We did 'Fallin" because it is pretty popular, and we knew the crowd would probably like it."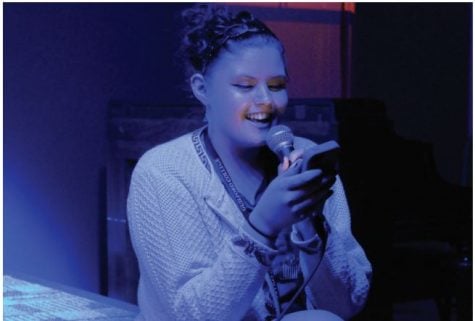 The event was not limited to music or to students. Timothy Johnson, assistant director for the office of student leadership and engagement, told a touching memoir about finding love.
"What is love?" asked Johnson at the beginning of his poetic tale. "What does it mean? Where does it exist? Maybe I should take a second, write it down, make a list and see."
After talking about how his love has grown up with him, he answered the question.
"Real love is when you find your best friend. … Next time you look for that real love, look in yourself and ask yourself what is the piece that completes me, that rib love."
So what exactly do bones have to do with the story?
"The piece was called 'Rib Love,' and the inspiration came from two things," said Johnson. "One, I had seen a spoken word artist that weekend before and was inspired to write a piece of my own. Second is that my students asked me to be a part of the showcase, and I would do anything for them.
"The name of the piece came from the poet I had heard, and he talked about how a missing piece can make all the difference to someone."
After the planned performances came to a soft end, audience members were urged to show off their own skills. While hesitant at first, the atmosphere quickly filled with poems and songs.
Sophomore Dwayne Duncan served as the master of ceremonies and encouraged people to act out their talents. At the end of The Element, Duncan and Taylor performed a jazz duet, with Duncan on the drums and Taylor on the piano.
"I was inspired to perform because I always had a passion for music," said Duncan. "My friend Troy and I always wanted to groove together, and that was the perfect opportunity."
So in the words of Williams, we should all take a moment sometimes to "let it go" to "let it flow."
Leave a Comment