Woyzeck opens Halloween weekend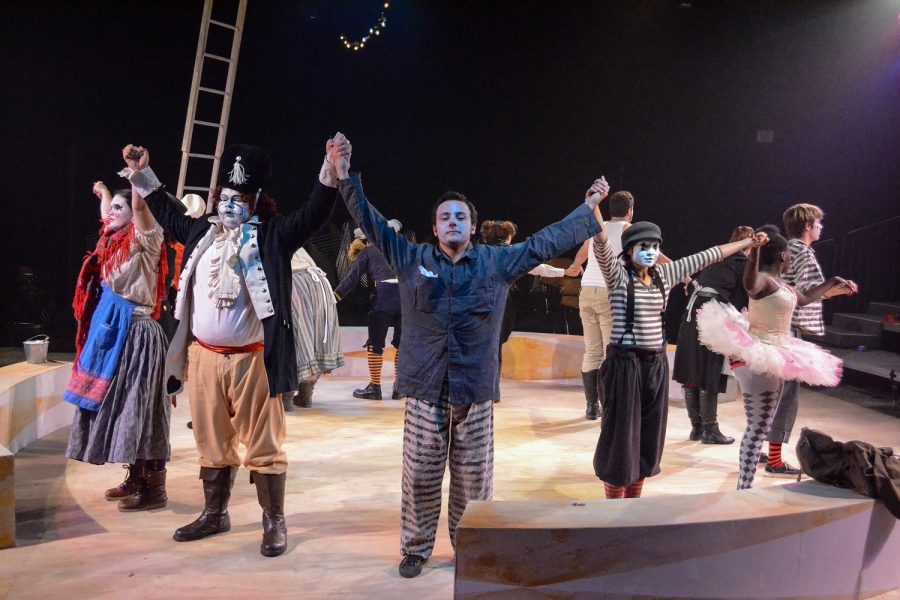 Sex! Clowns! Murder!
Guilford College's theatre depart- ment has been working tirelessly since Aug. 28 to showcase the brilliant talents and enthusiasm of students and faculty members. Directed by David Hammond, professor of theatre studies, "Woyzeck" is premiering in Sternberger Auditorium this Friday, Oct. 28 at 8 p.m.
"Woyzeck" is about a soldier named Franz Woyzeck who becomes the subject of medical experiments that cause him to have apocalyptic visions. Further chaos overruns his world when his girlfriend Marie, the mother of his child, becomes attracted to an alluring officer.
"Woyzeck" was originally published in 1839, written by Georg Büchner, a German dramatist. Guilford chose Neil LaBute's rendition of the production, which was published in 2014. The world of the play is portrayed as a hellish vision of a system of oppression while employing a circus as the backdrop.
With Halloween quickly approaching, the show embodies the thrill of drama and violence.
Lindsey Zeritis, a senior playing the character Marie, Woyzeck's girlfriend, expressed that people will enjoy the production, especially for the Halloween weekend. She also expressed the invaluable nature of the efforts of the theatre department.
"I also think that while people may be entranced in the spectacle of the show, it is very easy to make connections to our society and the control the government has over the individual," said Zeritis.
Skylor Bee-Latty, a senior playing the role of a circus performer, worked alongside her peers this semester to not only establish her role but also to produce the more elaborate costumes. She described the play as dark and emotionally engaging.
"The raw beauty of the play combined with the gorgeous designs of our designer Robin Vest is a knock- out," said Bee-Latty.
"I think "Woyzeck" is the most Guilford appropriate play we have had in years in the sense that it focuses on social justice but is still weird and artistically refined."
Tabitha Mocherman, a junior in charge of the front of house pro- duction, oversees the box office and publicity. She looks forward to inter- preting the reactions of the audience after they see the production.
"Students should come see the show because it is relevant," said Mocherman. "The relevancy comes from the political nature of it. It raises questions like how much government should dictate, how to start change in a destitute place and how should we police military forces."
The production premiers this Friday and Saturday at 8 p.m., Oct. 30 at 2 PM and Nov. 3-5 at 8 PM in Sternberger Auditorium. Tickets are $5 for students and faculty members and $10 for everyone else.
"The show's about to begin, and you won't want to miss this." said Bee-Latty
About the Writer
Mae Wood, Executive Copy Editor
Senior English Major and Music Minor and aspiring music journalist. This is her fourth semester working on The Guilfordian. When she is not copy editing...