GOOFORDIAN: Atttttttack ZOMBIES R COMING AND THEY R COMING 4 U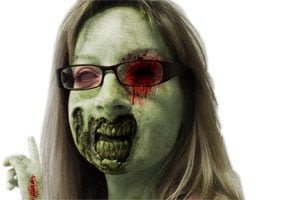 Disclaimer: This story is a part of our April Fool's edition, The Goofordian. This story was created by Guilfordian staff and is not based in fact.

The zombies are coming, and Associate Professor of English Heather Hayton may be our best hope for survival. An attack by the undead on November 5, 2011 has left many at Guilford wanting to prepare for another inevitable strike. We're in luck as Hayton teaches classes on zombie apocalypse preparedness and survival.
"I am passionate about teaching zombie survival," said Hayton. "With the oncoming apocalypse, learning how to survive must become a critical component to the education at Guilford."
Until now, only two courses were offered: one to first-years, the other to seniors. She avoided making a big deal about them for fear of being thought of as crazy and losing her job.
"Zombies are very real and pose a grave threat to the people on this campus, which is why my classes are so critical," said Hayton. "You can call me loony, just don't call me unprepared."
Unfortunately, many in school think the threat of a zombie attack is just a myth.
"That last 'attack' was just a bunch of students goofing around," said Dean of Students Aaron Fetrow. "Zombies will not attack Guilford, preparedness courses are just ridiculous."
However, Hayton and students think otherwise.
"I'm really afraid of a zombie attack," said first-year Josh Parnell. "I don't know how to handle it. My parents back home are freaking out that I'll get eaten. The classes should calm our fears."
In response to the threat of zombie attack, Hayton's students prepared a survival guide. Included are the types of zombies and how to defeat them. Graduated class members told The Guilfordian exactly what current students need to survive.
"You need to understand what you're dealing with," said Zac Hummel '12. "There are different types of zombies and each has a different method of turning humans into one of them."
The guide focuses on how to defeat them.
"The most critical element is destroying the zombie's head," said Amy Myers '12. "You can cut off an arm, slash them with a sword and they won't stop coming at you. Get the head and they're no longer a threat."
According to the guide, the most effective method for successfully eliminating a zombie head is to carefully aim at it with a gun, a bat, a sword or anything that's handy.
"I don't think we need so many complicated, involved methods for stopping zombies," said sophomore Liliya Marshall. "I think you should just throw rocks or something at them and then run like Usain Bolt."
The guide also lists spots on campus that are safe from zombies, which includes Founders Hall and Dana Auditorium.
The Center for Disease Control also wants citizens to be ready for the wave of the undead and prepared a list of recommendations for surviving the onslaught.
Suggestions include having an emergency kit with food, water, clothing and small tools. Another is locating people to be allies during attacks and preparing an evacuation route.
The zombie apocalypse will be frightening and will test the resolve of everyone on campus. But with Heather Hayton's preparedness courses, we'll be ready.
DISCLAIMER: This is part of the April Fool's edition.