Ahmaud Arbery's killers convicted
Guilford community reacts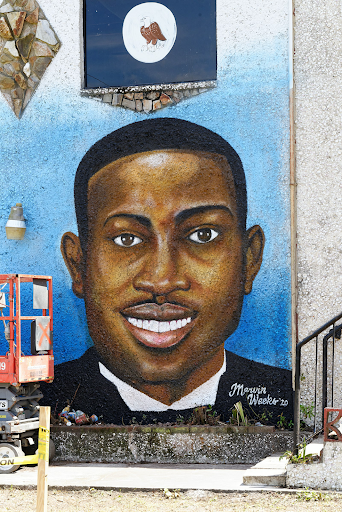 On Feb. 23, 2020, Ahmaud Arbery, a 25-year-old Black man, was chased and killed by Travis McMichael, his father Gregory McMichael, and William "Roddie" Bryan. 
Arbery was simply jogging through a Georgia neighborhood, where the three white men lived. 
According to a Nov. 25 Associated Press article, "The McMichaels grabbed guns and jumped in a pickup truck to pursue the 25-year-old Arbery after seeing him running outside the Georgia port city of Brunswick. Bryan joined the pursuit in his own pickup and recorded cellphone video of Travis McMichael fatally shooting Arbery." 
After the tragic incident, the McMichaels told police that they believed Arbery was running because he was guilty of burglary. 
".. The prosecution argued that the men provoked the fatal confrontation and that there was no evidence Arbery committed any crimes in the neighborhood," The Associated Press reported. 
On Nov. 24, 2021, the three men who brutally killed Arbery were convicted of murder. They all now face a mandatory sentence of life in prison. 
According to NPR News, Travis McMichael, 35, Gregory McMichael, 65, and Bryan, 52, all faced the same nine criminal counts in Georgia State Court: one count of malice murder, four counts of felony murder, two counts of aggravated assault, one count of false imprisonment, and one count of criminal attempt to commit a felony. They pleaded not guilty to all counts.
"Travis McMichael was found guilty of all nine counts. Greg McMichael was found not guilty of one count of malice murder, and Bryan was found not guilty of one count of malice murder, one count of felony murder, and one count of aggravated assault," NPR News reported on the same day the three men were convicted. 
Arbery's death is largely viewed as racially motivated, and to many, his case is viewed as another example of racial injustice.
"His family has described it as a 'modern-day lynching,' and activists point to it as an example of the suspicion and violence that Black people face in the U.S. while doing everyday things," NPR News reported. 
Tiffany Holland, a lecturer in Guilford's History Department, described the Arbery case as "both infuriating and heartbreaking, just like all of the caes when anti-blackness, over-policing, and gun violence intersect," Holland said. 
"When Arbery was first killed, I remember the initial gaslighting and victim-blaming that popped up on social media and vis-a-vis pundits. People tried to parse Arbery's every move: what had he been doing in the construction site? Where did he live in relation to the neighborhood he was jogging in? Why did he reach for the gun? Why didn't he just stop and answer their questions?
"The men who were responsible for his death were then not arrested for 74 days after the murder, and only after the video was leaked and after agitation by the Arbery family. Those were the facts that mattered. Period," Holland said. " What he was doing in the neighborhood, why he stopped in the house under construction, what he was wearing, or what his feet looked like–all of those questions or 'concerns' highlight that even in their death, black people are thought of as inherently more suspect/suspicious/dangerous than white people with guns who actually kill people.
"As for the trial, justice for the Arbery family and community who mourn someone they knew and loved was never going to be found in that courtroom, regardless of the verdict," Holland continued.
"Furthermore, the verdict has been used as a justification of how the criminal justice system in the United States actually 'does work,' even when that same justice system is what allowed Arbery's killers to live their lives free for 74 days with no arrest, Holland said. 
"Furthermore, black people who are just trying to live their lives, as free as they can, still have to negotiate the combination of anti-blackness, gun culture, and policing that on a daily basis tries to limit their movement."
First-year Alejandra Garcia also expressed strong feelings about the Arbery case. 
"Ahmaud Arbery was unjustly killed by white men who wanted to act as the defenders of America when it wasn't their place at all, he was killed because of his skin color not because he was an alleged robber," Garcia said. 
"He was literally chased down by civilians, not cops! It was not their right nor authority to do so! There should have been hate crime statutes before this to prevent things like this from happening.
"There should have been clear communication between police and citizens that it is not their place to do things like that! The government should have done something to protect black lives before they get killed and taken," Garcia said.
"Obviously, if (the) McMichaels and Bryan had let Arbery live his life, that would have prevented the situation," Holland said. 
"If U.S. citizen arrest laws and self-defense laws were not rooted in the legacies of slavery and white supremacy in this country, that could have prevented this murder. If there were not just a staggering number of guns on the street in this country, maybe that would have prevented this murder," she added. 
"Arbery was not the only unarmed black person killed in 2020. He is not the only black person murdered where there is video proof of his murder; he is not the only person whose death has been played on repeat on the news and social media to be consumed and fetishized."
Leave a Comment