The Catholic Church cannot bless same-sex unions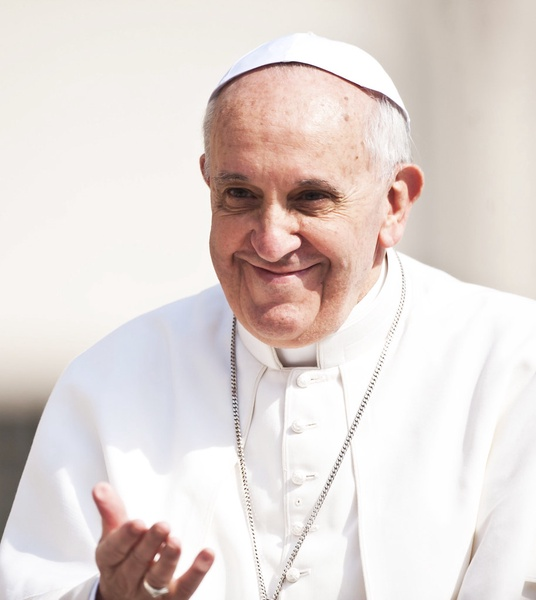 The Catholic Church has stated that it cannot bless same-sex unions based on ecclesial doctrine. In other words, same-sex unions do not fall within the catechism of the Church. According to journalist Bill Chappell of NPR, the Vatican explained that bestowing a blessing on a same-sex couple's relationship would be an "imitation" of the nuptial blessing. This imitation would essentially condone sin, and God cannot bless sin. 
Pope Francis has received an abundance of negative criticism from the LGBTQ+ community in regard to the Vatican's recent statements about same-sex unions, but his position on the matter has not changed since 2016, when he wrote that there are "absolutely no grounds for considering homosexual unions to be in any way similar or even remotely analogous to God's plan for marriage and family."
Despite the Church's opposition to same-sex union blessings, Pope Francis welcomes homosexual parishioners. His friendliness is untraditional of the Church, and quite frankly, perplexing. 
Patrick Hornbeck, a Fordham University professor of theology, stated in an interview conducted by The Washington Post: "(Pope Francis) has extended a warmer welcome than any of his predecessors have done, but today's statement shows that his hospitality has limits."
Adyson Franken, a Roman Catholic first-year student-athlete at Guilford College, is in support of same-sex unions within the Church. 
"Francis has clearly stated that he supports civil, same-sex marriages and welcomes homosexuals as parishioners in the Church, but his words are confusing," Franken said. "Though he supports same-sex unions, he does not support same-sex unions in the Church. I agree with the majority of Catholic teachings, but some may be outdated. If the Pope supports homosexuals as members of the Church, then he should bless them as any other member, which includes marriage." 
According to The Associated Press, Belgian priest Antwerp Bishop Johan Bonny was upset by the Vatican's official position. He expressed shame for the Church, saying: "Sin is one of the most difficult theological and moral categories to define, and one of the last to pin on people and their way of living together."
Interestingly, in reference to 2019 Pew Research Center surveys, about 61% of American Catholics accept homosexuality and are in support of same-sex marriage. However, the surveys do not specify same-sex marriage as civil or ecclesial. 
Despite opposing opinions, the Church is unwavering. Same-sex unions within the Church are unsupported by the Vatican because they endorse sin. According to the Associated Press, the Vatican holds that gay people must be treated with dignity and respect, but that gay sex is "intrinsically disordered." Catholic teaching says that marriage is a lifelong union between a man and a woman that is part of God's plan and is intended for creating new life.
Pope Francis has inspired a new era for the Catholic Church in many different facets during his tenure. Though he may not support the blessing of same-sex unions within the Church today, he may in the coming years. As society progressively changes, Catholicism is likely to change.
Leave a Comment