Chicago teachers locked in tense conflict over reopening plans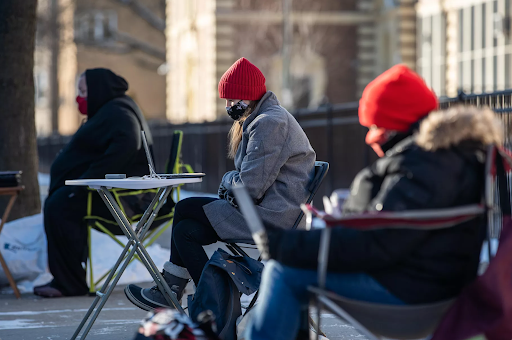 While students at Guilford anxiously await a return to in-person classes, teachers in Chicago are poised on the brink of strike while resisting a return to in-person instruction.
Following a vote on Sunday, the Chicago Teachers Union (CTU) opted not to return to school the following day as was previously planned, citing safety concerns. Pre-K students and students with special needs returned to in-person learning earlier this month, and K-8 students were slated to return this coming Monday, Feb. 1. Following Sunday's vote, the CTU and Chicago Public Schools (CPS) entered tense negotiations, which have yet to be resolved. CPS extended virtual learning through Tuesday, Jan. 26 to accommodate these negotiations, but after no agreement was reached, instructors continued teaching remotely on Wednesday.
"We want to return to safe, welcoming and thriving schools—and that can't happen until we put the health and safety precautions of our educators, our students and the larger community ahead of the unreasonable demand to return to school buildings that lack the necessary protocols to keep us safe," CTU Vice President Stacy Davis Gates argued in a statement. 
CTU has maintained the need for vaccines for instructors before their return to school, which, according to Illinois health officials, could mean a wait of up to two months. 
Meanwhile, CPS has instituted a number of other standard safety measures in Chicago schools, such as daily health monitoring, contact tracing and classroom air purifiers, which CPS maintains will provide the protection necessary. 
"For the past three weeks, thousands of CPS students have been safely learning in person, and the union's action will prevent these students from receiving the classroom support their parents needed and chose," wrote District CEO Janice Jackson in an email to Chicago parents.
 CTU instructed its members to prepare for a potential strike if CPS began to punish teachers for their actions. The American Federation of Teachers stated their support for the strike, and individuals closer to home have echoed the statement.
"I support the Teachers Union," said Guilford English professor Jennie Malboeuf in an email. "Safety should always be the first priority. So little is done to protect teachers and bolster the work they do. Hopefully, this is a temporary situation that will be hurried away by diligent attempts at distancing."
It's also easy for fellow students to sympathize with those most affected by this situation. Chicago students have been attending virtual school since March 2020. Parents have cited concerns for their children's mental health and the quality of learning over Zoom, not unlike Guilford senior and English major James Mitchell.
 "My drive and determination is down because of the virtual aspect of remote learning… but also because of the constant negativity in my periphery and the anxiety it causes," said Mitchell.
Quakers, and Guilford by extension, have a long history of supporting union rights. Gretchen Waldorf, a theatre and history double major, exemplifies this firm belief in union solidarity. 
"I certainly wish that we were at a place where (in-person) learning was possible… I get why in-person learning has its merits, but so does keeping the population alive," she said in an interview. 
With tension still rife between district officials, the Teachers Union and Chicago parents, it's unclear how this conflict will resolve. The CTU is no stranger to strikes, with this being their second major strike in two years. However, the backdrop of COVID and virtual learning burnout makes this strike unique and particularly contentious, leaving the CTU and CPS locked in a dispute which could set a national precedent.
Leave a Comment