Tyler Campbell: epitome of the complete student-athlete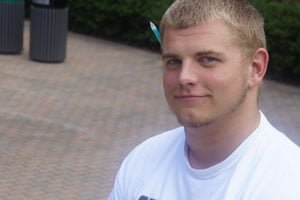 Most academic institutions place strong emphasis on the term "student-athlete."  Luckily for Guilford College, first-year Tyler Campbell exemplifies everything, and more, the college wishes to have in its student-athletes.
Campbell, a center on the Guilford football team, has recently been named a finalist for the 2012 National Scholar Athlete Award, an honor bestowed upon an athlete that excels both in the classroom and on the field.
Campbell has been selected to represent the Corrigan/Faircloth Chapter in the Triad for the National Football Foundation. This chapter is one of 120 in 46 states that reward high school football players who perform academically and athletically at a high level.
With the initial candidate pool reaching over 3,000, being selected as one of the 26 finalists is an honor for Campbell.
"It is such an honor to be a top finalist for this award," said Campbell. "It makes the whole academic process worthwhile, to get recognition."
Beth Campbell, Tyler's mother, says that Tyler has had the potential to succeed all along.
"Tyler has always had a natural desire to achieve success in everything he does," said Beth. "He realizes the desire and knows his family will provide the love and support he needs to achieve that self-actualization that he is known for."
Campbell's mother is not the only who has noticed the first-year's desire to achieve success.
"This is good for Tyler in general, for showing what he can do not only on the football field, but also in the classroom," said Head Football Coach Chris Rusiewicz. "He is definitely someone who will lead by example because of his work ethic."
Leading by example comes naturally for Campbell, according to Rusiewicz.
"I have coached a long time, and I have had players win the Chapter Award, but I have never had someone make it to the national level," said Rusiewicz.
Faris El-Ali, junior captain on the football team, has also noticed Campbell's hard work.
"He does not like making mistakes," said El-Ali. "If he does, he is committed to improving from day to day."
Campbell realizes that with reward there is a price to pay. Sacrifices need to be made in order for him to maintain his lofty academic and athletic aspirations.
"In college you have to manage your time a lot better," said Campbell. "At times you have to sacrifice some sleep, but in the end it is worth it in order to make good grades."
Campbell maintains habits that enable him to stay on top of both athletics and academics.
"Always keep a schedule handy,"  he said.
His roommate, first-year Troy Philpott, has witnessed this.
"Tyler takes a part of his day to sit down and figure out what exactly he has to work on," said Philpott. "Tyler knows what he has to do and he finds a way to get it done."
With a mixture of self-discipline and good habits, Campbell considers himself to be in a position that suits both him and his future aspirations.
"I am very excited to be playing for, and representing my hometown college team", said Campbell. "Go Quakers!"
[photomosaic nggid=41]
Leave a Comment