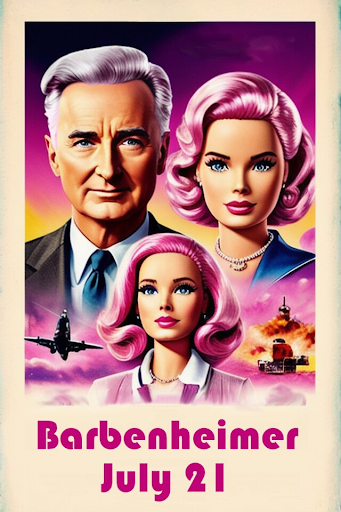 What do a man who invented a bomb to destroy whole countries and a controversial pink, plastic bombshell have in common? Obviously nothing. That is, until internet users combined the simultaneous release of polar-opposite films "Oppenheimer" and "Barbie" into the social media trend called "Barbenheimer," a trend that began a necessary feud between men and women. 
On July 21, Christopher Nolan's dark, portentous portrayal of the father of the atomic bomb, J. Robert Oppenheimer, opened alongside Greta Gerwig's bubble-gum pink feminist twist on Mattel's classic toy Barbie, making for an amusing amalgamation of imagery that took hold of the internet. The memes, fan-made movie posters and outfit mashups did more than entertain fans online, they boosted movie theater attendance to around 65% of pre-Covid levels, according to reuters.com.
Plenty of other aesthetically incompatible films have been released on the same day in the past, like "Mamma Mia!" and "The Dark Knight Rises," with similar online buzz—evidence of the internet's inclination to find humor in the out-of-place and ironic. But on top of clear artistic differences, "Barbenheimer" has another level of juxtaposition yet to be seen in past internet mashups, making it that much more significant: a gender feud.   
"Barbenheimer's" genius was its ability to combine unserious, Gen Z humor with traditional, binary gender stereotypes in a way that prompted a fun and friendly "Battle of the Sexes" scenario, creating what I see as an unexpectedly unifying and immersive moviegoing experience for all.  
"Honestly, I think (the trend) is really funny," Guilford senior Zoe Jordan said. "I like that it didn't become a source of contention. Everyone was like 'Yeah, these two things are completely opposite, but we're going to merge them, instead of making it a me-against-you situation.'"
Interest in the individual movies was already high when they were first announced. "Barbie," of course, had instant appeal with a majority of women since the titular character is a classic childhood toy marketed towards girls, as well as a source of comfort and/or resentment for many women. Additionally, "Barbie" was a movie unlike many in Hollywood before it: It was geared towards women.
Having a movie overtly marketed as containing feminine themes and issues alienated many men; some of whom then chose to adopt "Oppenheimer" as their symbol of masculinity. Both movies contain traditional and, in most cases, toxic symbols of binary masculinity and femininity. "Barbie," with her perfect, unrealistic looks and behavior, and "Oppenheimer," with its themes of violence and warfare, both seriously oversimplify popularized stereotypes for the people who they represent. 
"There is a misogynistic approach to both movies being released on the same day." Guilford freshman Cristella Smith said. "Most women choose to go to 'Barbie' just like most men chose to go see the other movie."
While it seems like there are two distinct camps that rallied behind imperfect representations of binary gender, Gen Z and the internet made this evident "Battle of the Sexes" situation revolve around humor. This hyperbolic humor, in turn, promoted awareness about the good and the bad within both Barbie and Oppenheimer by covertly exposing the irony within stereotypes. Gen Z is often criticized for being too unserious about major issues, but maybe that is exactly what was needed in this instance. 
I believe "Barbenheimer" is loaded with potentially dangerous elements that would have been explosive if the trend was taken too literally. With our increasing reliance on social media, personal beliefs can be more readily shared online and with a much broader group of people. This widespread sharing of beliefs has the potential to promote progressive, positive viewpoints, but when the wrong people have been given a platform—like those who would pervert the meaning of a fun trend—it can be extremely dangerous. 
"There is definitely a lot of opportunity to break down gender stereotypes on social media, and there are a lot of activists who use social media to try to break down those stereotypes or make fun of those stereotypes in ways that are entertaining," said Rachel Riskind, professor of psychology at Guilford, "but there are certainly ways to enforce those stereotypes and to enforce sexism and patriarchy on social media." 
So, while "Barbenheimer's" roots are in gender stereotypes, the trend is done in a lighthearted way, evidence of Gen Z's influence, making it a fun trend that not only is helping to resurrect the movie industry, but also is popularizing social media as a tool to make fun of harmful gender competition. 
As it turns out, the collision of Oppenheimer's bomb and Mattel's blonde bombshell did spark an explosion of its own: in the movie theaters and in the media's acceptance of gender solidarity.