The pros and cons of Black History Month programming at Guilford College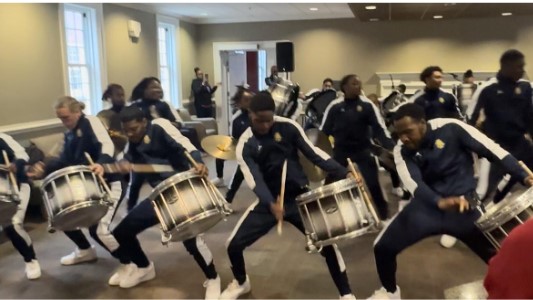 It's Black History Month! For the entire month of February, Guilford College is taking  time to recognize Black influence, voices, contributions and culture. 
One of the most defining attributes of Guilford is its diverse campus community, with 52% of students being people of color. Celebrating that diversity is crucial to maintaining the relationship that students have with their peers, faculty, staff and administration. 
The College has chosen to celebrate the Guilford community's diversity by organizing events around campus to celebrate such a significant month. This programming is necessary because it exposes students, staff and faculty to African American voices and culture, which should be amplified not just in February, but year-round. 
While there are positive aspects of this month's events, another question lingers: Could the College do more? The answer here is yes. There is always more that can be done to celebrate and raise awareness about Black history.
Week one of Black History Month started off strong with the kickoff in Founders Hall, where students got to hear the enthralling sounds of the Guilford College gospel choir and the Cold Steel Drumline from the N.C. A&T marching band. During the entire event, students danced, cheered, laughed and celebrated with one another. The kickoff showed that here at Guilford, we are more than just academics. We are a community of people who come from different backgrounds but are still able to come together and celebrate those differences respectfully. 
"The drumline performance was the highlight of Guilford's Black History Month," said Guilford junior and community and justice studies major Madeyson Dyce.
The second and third weeks of Black History Month at Guilford were filled with events from clubs like the Black Student Union and the African Student Association. I had the pleasure of attending the "My Skin, My Beauty" event hosted by CAB and IEC. 
During my time at this event, I learned more about melanin-focused skin care and even custom-made my own body butter under the guidance of skin care professionals from Luxe Fragrance Bar. Being in that space was such a therapeutic experience because as I made my personalized products, I got to talk to other Guilford students and meet people who I otherwise might not have met. Whether students were there to learn about skin care or just to socialize with peers, there was something there for everyone. 
Community is a foundational aspect of all of this month's programs, and one reason to advocate for Guilford's continued support of Black history events is that they help to bring people together. Additionally, as a Black or African American person, navigating everyday life can sometimes be a challenge because you are forced to maneuver through systems that were not created for you to succeed. 
While Guilford's events this month helped bring individuals together, they also helped to educate the larger student body on the many contributions that Black people have made to society, as well as the continued struggles that the minority group faces. However, even with these positive attributes, there is still work to be done to ensure that Guilford is optimizing its outreach during Black History Month. 
The Black student population at Guilford has fought to make Black History Month a time of year that the entire student body can look forward to. However, some feel the support from administrators is not sufficient enough to really be able to make the impact that they want to see. "I feel like they tried to do their thing, but it could have been more focused," said senior and public health major Lacey-Ann Reynolds. "There could have been more events and more promoting."
There is no doubt that Guilford is filled with capable student leaders, but this does not mean that it should be left solely to students to plan, advertise and execute events. This year, the Black History Month programs were largely an effort of the Black student body working together (with very select staff and faculty), but there is only so much we, as students, can do. The more hands-off approach of some of Guilford's higher-ups meant that some of the events were not as well-organized or widely advertised as they should have been. 
Additionally, there needs to be more of an effort to amplify Black culture year-round and not just in the month of February. As mentioned earlier, Guilford has a widely diverse student population, but that diversity is only really recognized and celebrated during this time of the year. 
Creating a safe space for Black students means providing the necessary support needed to make events successful throughout the entire school year, as well as listening to the grievances of students and actually using that feedback to make a positive difference. 
I believe Guilford can move forward and implement the necessary changes, but it must be a combined effort. Black student voices deserve to be heard, and we will keep working every day to ensure that they are. 
Leave a Comment