Is weed on the road to legalization?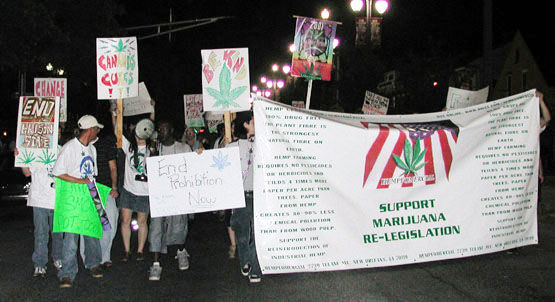 People have debated marijuana laws in the U.S. since the Marijuana Tax Act of 1937 first made weed illegal nationwide. Concerns about overcriminalization have risen in the past decades, and more evidence has come to light regarding marijuana legalization. 
While several states recognize marijuana as a legal substance, it remains illegal at the federal level. Because of this, thousands of people are convicted at the federal level, even for minor possession charges. Not only does this contribute significantly to overcriminalization, but it also has damaging impacts on the lives of ex-convicts. 
On Oct. 6, President Biden took action against decriminalization, despite his lack of full support for the matter, when he pardoned thousands of people with federal offenses for marijuana possession. Additionally, he began the long-awaited re-evaluation of how marijuana is categorized as a drug. According to Reuters, "Reclassification would be a first step toward wider legalization." 
While these are significant steps toward the legalization of marijuana, legalization is only beginning at the federal level. Protests and changes in state laws have occurred for the past couple of decades, but the issue has remained stagnant in federal criminal law up until now. 
While Biden's actions show progress in the age-long debate over marijuana laws, his intentions are not entirely focused on helping ex-convicts. Considering the upcoming midterm elections, Biden also made these changes because of a campaign promise.
The Democratic Party is now using this promise to try to keep its majority in the Senate and House of Representatives. Biden's actions have been positively received, but this might not be enough for the Democrats to keep their majority.  According to Politico.com, the Republican party has made it clear that the focus of upcoming elections will be primarily on "economic issues and public safety."
Despite the purpose of the change, the point is that there is a change in the first place. Even though the magnitude of the impact is unclear, there is a greater drive among voters and states to decriminalize marijuana and lessen the collateral of jail time that cannabis convicts face. Additionally, these changes will affect the cannabis growing and selling industries as legalization becomes a real possibility.
One of the most significant reasons why overcriminalization is overlooked as a social justice issue is that most people don't consider life after jail to be part of the impact of overcriminalization. The problem goes beyond serving a couple of years in prison. 
The consequences of most criminal actions, particularly for low-level crimes and misdemeanors, are outside formal criminal proceedings and are instead felt more deeply through the repercussions of criminal records. Key players in the criminal process are police, prosecutors, courts, private probation companies, criminal database providers and even employers. 
The ease of access to criminal records, specifically for employers, is one of the leading consequences faced by those released from prison. Even for simple marijuana charges, people are convicted and have a criminal record. After prisoners are released, it is extremely difficult to find employers willing to hire an ex-felon.
The key players in the criminal process should focus on public safety and crime deterrence, not personal gain through higher conviction rates for simple crimes. This points to the need for reform within the criminal justice system and the reclassification of marijuana. 
The impact of overcriminalization is felt in communities with historically high crime rates, because of the continuous poverty loop faced by such communities. Factors like environment, family, education and systematic discrimination all work to keep these communities in constant poverty and crime. Furthermore, previously impoverished people have far fewer chances of escaping social and economic traps when put through the system. 
Legalizing marijuana would be the first step in the much larger process of reducing overcriminalization. While pardoning thousands of people is a positive advancement, the lives of ex-convicts still needs to be considered in this possible reform. It is necessary to reduce sentencing for minor crimes and create a system of reintegration into society for ex-convicts that focuses less on their criminal record and more on their growth.
Leave a Comment