Humans guilty in case for climate justice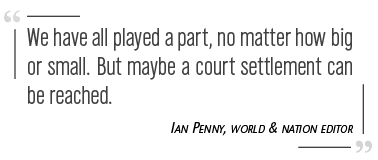 Imagine you're a plaintiff in a courtroom. You're seeking damages in a civil case from a person or a group of people for eroding your oceanfront property, harming your lung capacity or killing your crops.
The tool they used to do it: carbon dioxide. You're suing the perpetrator who caused climate change.
Who in your mind would be the defendant sitting at the other table? Who is ultimately responsible for climate change?
These are pretty philosophical questions.
You could blame the countries emitting the most carbon dioxide into our atmosphere. Data from the Netherlands Environmental Assessment Agency implicates China as the greatest culprit, followed by the United States, the European Union, India and Russia.
In 2014, China released 10.5 million kilotons of carbon dioxide from fossil fuel use and industrial processes, a stunning 29.6 percent of all world emissions. The next largest emitter, the U.S., contributed another 5.3 million kilotons.
And that's just one year.
According to the World Resources Institute, the U.S. and the EU accounted for 52 percent of carbon dioxide emissions between 1850 and 2011. China is in a distant third, having only contributed 11 percent.
It'd make for a hefty payout, but you likely couldn't prove national governments played a large part in the creation of emissions.
You might have a stronger case against corporate emitters though. "Carbon majors," companies in the petroleum, coal and cement industries, account for a considerable amount of carbon dioxide and methane in the air.
In 2014, Richard Heede, cofounder and director of the Climate Accountability Institute, published a peer-reviewed article in the scientific journal Climate Change. He found that 90 carbon majors accounted for 63 percent of greenhouse gas emissions between 1751 and 2010.
The largest corporate carbon contributors on the list include Chevron, Exxon Mobile, Saudi Aramco, BP and Gazprom.
You could argue that these corporations have acted willfully negligent in recent years. They knowingly create products that put compounds into the air and heat up the planet.
But in our civil court, they'll get off on a technicality. Corporations always have good lawyers.
Carbon majors created the products, sure, but they didn't use them.
Who's left to blame? Nations don't create emissions themselves. Corporations don't physically release greenhouse gases into the atmosphere.
That leaves one group responsible for climate change: humans.
It's fitting that humans control the governments and run the companies. We tend to forget there are people behind the veil of these organizations.
Moreover, humans are the ones actually using fossil fuels every day, whether they know it or not.
There are some obvious examples like tailpipe exhaust, then there are less obvious examples such as the methane that was released to get that ground beef burger to your plate or the coal burned to charge your smartphone.
Humanity can't shed its responsibility on this one. No one today can claim they've led a carbon-neutral lifestyle.
We have all played a part, no matter how big or small. But maybe a court settlement can be reached.
In a 2015 article titled "Reaching Peak Emissions," Robert B. Jackson, professor of earth system science at Stanford University, alongside six other researchers showed that fossil fuel growth and consumption had slowed down in recent years. Furthermore, the team projected world carbon dioxide emissions would continue to decline in 2015.
We don't know if we've reached a high-water mark in carbon emissions, something the authors of the article made clear. But humans are changing their ways.
In preparation for the G20 summit, groups of people from the U.S. and China, the largest national carbon emitters, formally ratified the Paris Agreement on Sept. 3. The agreement aims to limit global temperature increases via reduced greenhouse gas emissions.
Alternative energy sources are also making progress.
A short-term outlook published by the Energy Information Administration in August forecasts the non-hydropower renewable energy supply for electricity and heat in the U.S. will grow 12.9 percent in 2016. The EIA predicts 9.6 percent growth in 2017.
Renewable energy is also catching on outside of the U.S. According to the EIA, non-hydroelectric energy sources accounted for 9.5 percent of the world's electrical capacity in 2013, up from 6 percent in 2010.
Humans plan to use less carbon-emitting products in the future, but we should expand our operations.
It's not just about scaling up renewable energy sources like solar and wind or about reimagining cleaner, safer nuclear power. For humanity to own up to changing the climate, we have to stop using fossil fuels altogether.
In fact, we should find ways to restore atmospheric carbon dioxide levels to pre-industrial levels.
Such restitution would be just in the eyes of the court.
About the Writer
Ian Penny, World & Nation Editor
Senior
Economics and German studies double major, Writing minor
Ian enjoys simple things like Cook Out quesadillas with Reese's Cup milkshakes. When...