NC State frat encouraged discrimination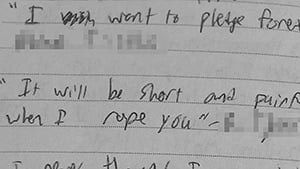 The Tau chapter of the Pi Kappa Phi fraternity at N.C. State University is officially disbanded.
The fraternity was suspended because of a pledge book that was found at a Raleigh restaurant which contained racially and sexually offensive comments.
The members of Pi Kappa Phi were told to immediately vacate the fraternity house.
"The fraternity can apply to return to campus with new membership in 2018," said writer B.J. Drye in an article for the Stanly News & Press.
Chancellor of NCSU Randy Woodson remarked that there has been an ongoing investigation into the pledge book according to The Technician, a student newspaper of NCSU.
"I hope today's action makes it clear that there is no place for intolerance, sexism and racism at N.C. State," said Woodson, according to NC State News.
Greek life poses endangerment to students and encourages discrimination.
No institution should permit sexism and discrimination towards any demographic at any university.
According to the New Jersey Institute of Technology, over 800 campuses in North America participate in Greek life, with over 9 million Greek life members nationally. Greek life is also the largest network of volunteer service in the United States, with 850,000 members nationally. However, Greek life has substandard ways going about initiation and group camaraderie.
"NCSU did a good job with how they handled the situation," said senior Lesley Manuh. "I'm pleased to see that they're upholding strong values and being assertive with not tolerating racism and sexual discrimination."
During their review, university police also released a "Wolf Alert" about a reported sexual assault that happened at the house in early March. Moreover, the organization is currently under investigation by the University regarding allegations that one or more of the fraternity's members were dealing drugs according to Katherine Kehoe, news editor for The Technician.
"A school should expect its students to act with integrity and to reflect the shared values of their community," said Residence Life Wellness Coordinator Kristie Wyatt '08 in an email interview. "If they are unable to meet this standard, whether from racists or sexually abusive language or drug use, I don't think it is inappropriate for them to be denied housing privileges."
First-year Ellie Pershing commented on the event that took place at NCSU.
"I think that fraternities and sororities receive a bad reputation because of events such as these," said Pershing. "The fact that NCSU shut down the fraternity is good for the rest of the houses under Greek life because not all Greek houses do such things."
Actions that NCSU took will better maintain the reputation of fraternities and sororities across the country.
Unlike NCSU, Guilford has theme houses instead of Greek life. The theme houses act as a space for groups of students with common interests to live together. Similar to fraternities, theme houses serve the community through fundraisers and provide a space for community engagement.
Sophomore Ro Lutenbacher shared her thoughts on NCSU seeking justice for the actions of the fraternity members.
"I think they could have (taken steps) to make it a little bit more of a learning experience," said Lutenbacher. "For example, take classes about racism and discrimination. However, I understand the precautions that they took in order to deal with the incident."