Goofordian: Only George W. Bush can save the US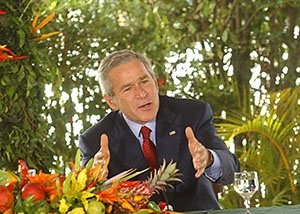 Disclaimer: This story is a part of our April Fool's edition, The Goofordian. This story was created by Guilfordian staff and is not based in fact.
Former President George W. Bush is running for a third term as president of the United States, and it's the best thing that could have happened to this country.
"Bush did more for this country than the other 42 presidents combined," said first-year Billy Doyle, dedicated member of the Guilford College Republicans. "At least, I think that's how many presidents there are."
This time, Bush is running on the platform that this country needs more "Texas swagger," a problem which everyone agrees needs to be solved.
"It's true that this country needs more swagger," said junior Buddy Eldon, Dallas resident. "People walk like zombies over here. Like, I feel like I should be scared because all my classmates are members of the undead."
In a statement to Wikipedia, Bush expressed his enthusiasm in running for another term, an enthusiasm shared by all Guilford.
"I'm enthused to be running for president of this fine country, these United States of America," said Bush, according to Wikipedia.
Bush also made a statement about running against his brother, Jeb Bush.
"Oh, you know Jeb," said Bush. "He's just running to get some good old family rivalry going."
Other issues Bush hopes to tackle in his presidency include the decrease in tie-wearing Americans and the fact that Americans don't smile enough.
"Well, obviously Americans need to wear more ties," said senior Rusty Homer, who claims he has now gone 508 days without wearing the same tie twice. "The same is true for smiling. George has an awesome smile."
Even other parties are excited about Bush running for a third term.
"Bush is (totally awesome)," said first-year Natasha Alexandra, who identifies as a Democrat. "I don't know why he (hasn't run again before)."
Libertarians, too, know that Bush is the main man.
"Bush is my home boy," said sophomore Rex Virgil, who claims to identify as Libertarian, even though he is running for a position on the board of the Guilford College Republicans next year. "Everyone knows Bush is cool, yo."
As Guilford College prepares to support Bush's campaign, students, faculty and staff alike are preparing their own campaigns for Bush.
"We're teaming up with the local George Bush Fan Club and the Guilford College Republicans," said Eldon. "We're picketing outside soon. You know, students had the die-in and walk-out outside Founders, and those were pretty successful, so we figured why not."
Currently, Bush is taking a tour across the United States, campaigning for his third term as president in some pretty cool ways, including rock concerts with Kid Rock to promote his campaign.
"Isn't Kid Rock the guy that said he's opposed to gay marriage and played at Obama's inauguration even though he didn't vote for Obama?" asked sophomore Hilary Allison, loyal Guilford College Democrat.  "That's (really cool)."
I, for one, loved seeing Bush when his tour stopped in Greensboro.
"We hosted Bush last week at the Greensboro Coliseum," said local George Bush Fan Club founder Dewey Dudley. "They were going to host Margaret Atwood, but we were like, 'George Bush' and they were like, 'Well, okay,' so that's that."
Regardless of your political position, it's nice to see Bush making a comeback.
"However you look about it, Bush is cool," said Doyle. "Vote for Bush."
Leave a Comment
About the Contributor
Nicole Zelniker, Editor-in-Chief
Senior

English major, Environmental Studies and Communication minors
Nicole loves newspapers, social justice and Harry Potter.