Guilford students, staff reflect on fall break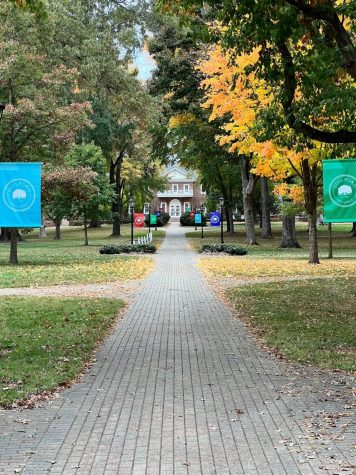 Fall break is seen by students and staff as a chance to get away from the classroom and rest so that they can try to finish out the semester strong. Guilford students and staff discussed their thoughts about fall break.
"I think fall break should start sooner," said senior soccer player Kenny Nzekwe. "It will seem a little biased, but being an athlete, we get more overwhelmed with our daily schedules compared to most students. I will advocate for fall break to be sooner because we need that break earlier."
Nzekwe also said that fall break should be at least a week long. He believes that two days is not enough for students to feel well-rested, and that some students could be mentally drained. He believes that students who are involved in sports and other activities around campus already have busy schedules,  and that fall break should help students to feel less overwhelmed."
Junior Emma Patterson agreed that fall break should come sooner in the semester. "My mental health hit its max two weeks ago," she said.  She also mentioned that two days of break are great, but that an extra day would allow students time to make travel plans to see family.
"I think fall break should be sooner, because it's hard having that break with just two weeks in between Thanksgiving break," said senior Alli Clemons.
Clemons also believes that adding one more day to the break would make it easier for students to enjoy the break and come back mentally prepared for classes.
Some students are more content with the length and timing of fall break here at Guilford.
"Considering family weekend, I think fall break is at a good point in time," said junior Grace Christensen. She added that she would not oppose one or two extra days of break.
First-year Carrie Greene thinks the timing of fall break is fine, but she finds it strange that most other schools have fall break a week before Guilford does. Greene is also a firm believer in adding an extra day of break, preferably, for her, on a Friday before the weekend.
Amber Slade, the associate director of Career, Academic and Personal Exploration at Guilford, said she's had conversations with students who appreciate the timing and length of fall break as it is. However, she said that some students are not as satisfied.
"The hard part I've really heard is from my students-athletes," Slade said. "They do get classes off like everyone else, but they don't get a real break to have time to go home and disconnect as they may want to given their schedules."
Slade believes that making fall break a week would be be an interesting idea to explore for the future.
Dean of Students Steve Mencarini explained how the details of fall break are worked out here at Guilford: "The entire academic calendar is coordinated by the Registrar's Office, so not just fall break, but the start date, end date, graduation date, breaks, etc," He added that fall break is usually mid-semester, between the sixth and seventh weeks of the fall 12-week.
"Fall break is only two days for accreditation purposes; we need to have a certain number of contract hours in the semester for class to count for a certain number of credit hours," said Mencarini.
He mentioned that extending fall break to a full week could cause the semester to end later than usual,  and  could impact winter break.
Mencarini agrees that fall break is a much-needed break for students, faculty and staff during a long 12-week session: "It's nice to have a few days to recharge and get ready for the remaining part of the term."
Leave a Comment