The Ahmad Project: A tribute for a lost student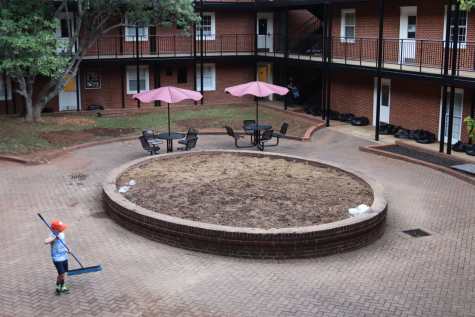 In April 2022, Guilford College began grieving for student Ahmad Brewington, nicknamed "Brew," who tragically drowned on a cliff-jumping trip. According to those who knew him, Brewington truly touched the lives and hearts of many in the Guilford community. Now his legacy lives through the Ahmad Project.
Hannah Hoffman, a third-year cyber network security major and Brewington's previous RA in Bryan Hall, took point on this project.
 "The Ahmad Project, essentially, is a large series of events or phases that are meant to honor a student that made an immense impact on this community, Brew," Hoffman said.
 The events include the Bryan Cleanup, Brew's Beautification and new seating in Bryan Hall. These events will allow for community building and collaboration, but will mainly provide a space for community members to memorialize Brewington.
The first phase of the project, the Bryan Cleanup, occurred on Sept. 4 and 5. During the cleanup, participants removed weeds, mulch and dead greenery from the cornered areas and brick pathways of the courtyard. They also cleared out the bush at the center of the quad.
The second phase of the project, Brew's Beautification, occurred on Sept. 23 and 24. This phase began the process of planting grass feed and  flower seeds in the courtyard of Bryan Hall. Students, clubs, faculty, staff and other community members participated in these two projects.
Hoffman explained how the Ahmad Project came about. "Last semester (spring 2022), Ahmad was one of my residents in Bryan and he came to me wanting to do…a community service event to clean up the Bryan courtyard/quad, and make it a better place for students to live and hang out in.
"I told him that it (was) a great idea and that we (would) start planning it, and while we were planning it; he passed away. So, from then on we (Hoffman and other collaborators) decided that we would make it a memorial event for him…We decided that we would do a larger series of events…to honor Brew, who not only made an impact on me, but an impact on all other students around him."
According to Hoffman, participants commented that the events were beautiful and emphasized how much Brewington would have loved them. Now she wants to keep these feelings alive in the community.
"… The Ahmad Project would not have happened without the student, faculty, and community outreach, but the project within itself would not have happened without Brew," Hoffman said.
Julius Burch, a senior mathematics major minoring in economics and sculpture, is currently working on his contribution project and tying it directly into the Ahmad Project.
"My friend Hannah told me about her ideas of getting select furniture out in Bryan with Brew's plans of making Bryan livelier," Burch said. "With my minor in sculpture, I decided that I could help out and save her money and time… For my project, I will be making two or three birdhouses, a bench of some kind, a bird bath, a lantern, a side table and possibly a garden bed." 
While Burch's contribution project will be done for the wider Guilford community, he also has a personal connection to the project; he hopes that it will  "…help keep (Ahmad)'s idea and plan alive".
The Ahmad Project has received a lot of support from Guilford clubs, departments, organizations and community members, including Maintenance, Residential Education, the Guilford Student Body Association, Guilford Athletics, Brothers Doing Positive, Counseling/Health Services, People and the Planet, the Bonner Center, the Friends Center, the Campus Activities Board, the Outdoors Club and Michael Crouch.
According to the project's proposal, future events and goals include "painting the brick walkway, new seating, a mural design competition and adding a plaque/bench dedicated to Brew".
 Hoffmann explained how Guilford community members can continue to support the Ahmad Project. "We are still looking for if anybody wants to support through participation or through funding, they totally can…But other than that, I would say keep (to) sharing about Brew."
The project allows Brew's legacy to grow and continue at Guilford College.
"…If anybody wants to come and see the impact Brew has had in the Guilford Community, they can physically see the difference, the impact, that Brew has made in the world by looking at Bryan's quad," Hoffman said.
Leave a Comment