Tama Hochbaum plays with time in new exhibit
Six years ago, artist and photographer Tama Hochbaum shattered her wrist in a fall, taking away her ability to support the weight of her camera while shooting. Instead of walking away from her craft, Hochbaum has relied exclusively on her iPhone to take photographs.
Hochbaum presented photographs in her exhibit entitled "Time Passing" in the glass cases near the front entrance of Hege Library. She also showed photos from her "Legacy" and "Silver Screen" series while giving a presentation on April 13 about her work leading up to these collections in the library's main gallery.
"Hochbaum came from Chapel Hill to see Judith's show and brought me a copy of her book, Silver Screen, and inquired about the possibility of exhibiting her photographs at Guilford," said founding director and curator of the Guilford College Art Gallery Theresa Hammond '81.
"As luck would have it, the exhibit I had originally planned for this semester in the glass cases had to be postponed, and thus there was an opening in the schedule. Tama's work resonated with me, and I was excited because there were several classes being taught this semester that I thought might make important connections to her art."
Hochbaum started as an artist and later transitioned to photography, while still embodying the techniques of her artwork into her images.
"I enjoyed learning about the evolution of her art work from her early training as an etcher/printmaker to seeing examples of her paintings, and then her transition to photography," said Hammond.
"I enjoyed seeing how her current work displayed in the library embodies elements from all these medias in various ways, such as the painterly, gestural marks of the shorthand notations in the 'Legacy' series banners, or the use of aluminum as a support for the 'Silver Screen' images harkens back to metal plates used in printmaking, and is also representative of another type of 'Silver Screen.'
As shown by the title of her exhibit, the passage of time is a concept she explored in many of her portfolios. In "Silver Screen," she used her iPhone to capture images of movies and television shows enjoyed by her late mother, who passed in 2012. Most notable were images of actress Greta Garbo in Camille, a film that was a favorite of her mother's and one they watched together.
Hochbaum emphasized the idea of depth of focus while presenting her photos from this collection. She created layers in the image by focusing her phone's camera on certain subjects that appeared on the television from a variety of off-center angles.
"With focus on one part and not on others, it creates an image that is almost dream-like," said Hochbaum during her presentation.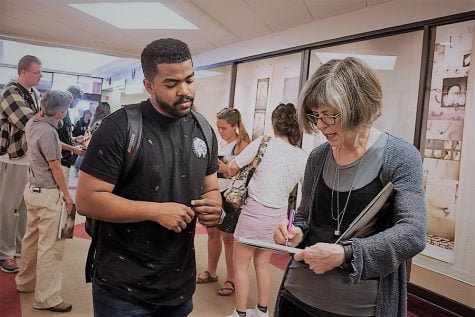 This collection is also featured in her 124-page book "Silver Screens," which features the 60 photographs from her "Silver Screen" series. During her presentation, she shared past experiences of her watching the shows that are featured in the images with her mother.
At University Place in her current home city, Chapel Hill, six large installations of her "Silver Screen" photos are currently on exhibit.
Hochbaum transitioned to "Silver Screen: Dancers," a series which followed the same idea of paying homage to her mother by capturing images of early to mid-20th century film and television but with a focus on the dancers in the Hollywood productions. The collection featured images of Elvis Presley's "Jailhouse Rock," the Nicholas Brothers and other iconic dancers of the period.
With these pieces, Hochbaum created grids and printed the digital files from her iPhone onto aluminum.
"(The grid) reinforces the idea of elapsed time," said Hochbaum.
She explored more with the grid format in other collections that she shared during her presentation. Hochbaum displayed several pieces from both "Lintels," named after the arching door formation, and "Cross/Walks," taken from a recent trip to Paris that embody grid-like formations and demonstrate the use of perspective.
"It was all about perspective," said Hochbaum, pointing in multiple directions, forming an arch gesture. "I would shoot (one way) and then shoot here, then here, then here."
In another one of her collections entitled "Bi Squares," Hochbaum used eight photos per piece to create a three-by-three box, leaving the middle square open.
"My gallerist, George Lawson, actually suggested the empty square," said Hochbaum. "He was a real champion and mentor to me."
Hochbaum had four shows in San Francisco and one in Los Angeles with Lawson. Hochbaum's photos will be on display in the Guilford College Art Gallery through May 19.
Leave a Comment