Students explore food justice, access at FoodStorm Conference
STUDENTS GATHER TOGETHER AT THE THIRD ANNUAL FOODSTORM CONFERENCE TO DISCUSS ISSUES OF HUNGER IN NORTH CAROLINA
Students, faculty and the greater Greensboro community joined together to connect people interested in food justice at the third annual local FoodStorm Conference, hosted by Guilford College on Feb. 25.
The day was filled with workshops where people could go and learn about different ways the city is fighting for food justice. Some of the workshop topics included hunger and homelessness, the urban food platform at North Carolina Agricultural and Technical State University and food waste in Guilford County.
There were presenters from different organizations sharing their knowledge and networking with each other.
Jenny Kimmel and Alyssa McKim were two of the many organizers that attended. They represented Sow-Permaculture.
"Permaculture is integrated with food justice," said Kimmel. "Permaculture is a system that is striving to create equality so that everybody has access to food and spaces that enrich them and that (there is) a balance with what we give and take (from) nature. We thought that was really fitting with the topics here at the FoodStorm."
Audrey Mangili, the Food Access Outreach Coordinator at the Bonner Center, helped Bonner students and members of the Food Justice Club organize the conference. When working with the students, she saw an interest in food inequality and wanted to get involved in the creation of change.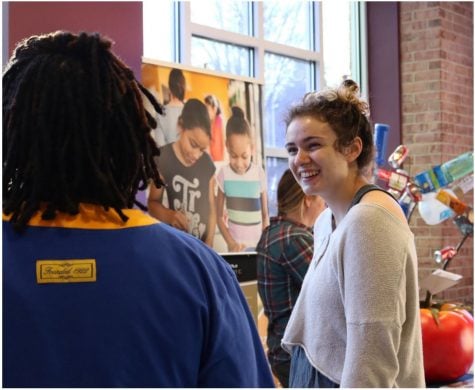 "When I saw the passion of the students on campus and the kind of work that the Bonner Center (does), I felt like this would be the perfect match to get them connected with other … student groups just like them in terms of passion and similar interests with food justice," said Mangili. "That's why we wanted to host it here and build off that original model that started at the first FoodStorm Conference."
Senior Bonner students Veronica Zambrano Coffie and Emely Cabrera Soto talked about their learning experiences working with the Food Justice Club and the Doris Henderson Newcomers School where they teach students about gardening and food sustainability.
"Being a part of Food Justice Club, we work toward food justice in the greater community of Greensboro," said Coffie. "By having this conference, we wanted to bring other local community partners and allies that also are fighting for the same things together in one place."
Both Coffie and Soto hoped the event would bring people together and enable them to network, connect and learn from one another. Participants were able to talk with each other and learn from other organizations and schools.
"What motivated me to host this event was to get the word out there about how we can fight food insecurity and the work that we do at Newcomers as garden teachers," said Soto. "We teach and educate students on how to sustain and maintain a garden.
"I also wanted to get a different perspective from other local people who garden … and learn … how we can input what they are doing into what we do here at Guilford and Newcomers."
FoodStorm was not just meant for just the community organizers and students already knowledgeable in food inequality. It also let newly interested students come and learn about the issue and become more aware and educated. Senior Bonner Connor Pruitt was among the many people who attended the event.
"I had a really good experience at FoodStorm," said Pruitt. "I liked the people who I engaged with, and their energy and positivity was wonderful. It's hard to come in and learn about so many deep, systematic issues and have a positive attitude. I think that is really the only way toward reform: when like-minded people come together … with optimism and strength and try to think of solutions and be proactive toward a change."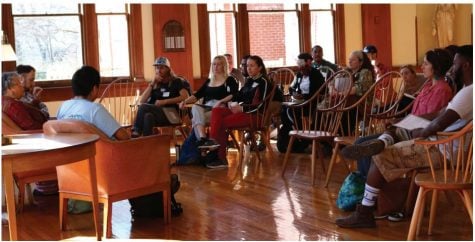 FoodStorm 2017 was a way for people to interact, learn and become more involved with food justice and food inequalities and to make sure people are getting resources and education about food.
FoodStorm was a pleasant transition into the upcoming spring farming season. Attendees learned about how they can improve their farms, grow food sustainably, be more aware of the different food deserts around Greensboro and work toward creating change.
Leave a Comment