Justice for Lennon Lacy still evasive, Guilford students join together in support of family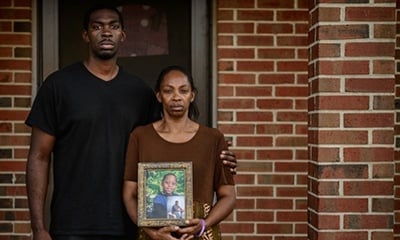 Seventeen-year-old Lennon Lacy was beginning his college search. He was on the football team. He had dreams of going to college.
That is why his mother Claudia Lacy thought it strange that the police claimed Lennon took his own life.
On Aug. 29, Lennon was found dead in a trailer park.
"His graduation would have been coming up next year," said Claudia. "I see what his life could have been, and I'm stuck with a lot of unanswered questions."
According to Claudia, much about Lennon's death does not add up.
"He was taken," said Claudia. "I know I would have sensed if he had been depressed. Lennon would never have given his life like that."
A neighbor reported that they saw Lennon hanging and called the police, but by the time the police arrived, the body had been taken down.
"The woman said that somebody killed themselves," said Claudia. "I didn't know who it was."
Though the police report he was depressed, Lennon was not emotionally distant, according to family and friends.
"It's strange to me, they say he was depressed," said family friend Portia Shipman. "He was getting ready to start the next day."
Aug. 29 would have been Lennon's first time playing as the football team's starter.
"I talked to him a week before," said brother Pierre Lacy. "He was so excited, he lifted me up over his head. I'm 220 pounds and 6 foot 4. He picked me up because he wanted to show me how much stronger he got."
The National Association for the Advancement of Colored People is backing the investigation of the case and hoping that this is not the lynching it seems to be.
"In 2014, we would hope that it was not a lynching, (but) they're asking the (family) to accept the fact that their son might have walked out of his home the night before his big football game," said National NAACP Chair of the Legislative Political Action Committee William Barber in an official statement.
At Guilford, students are raising funds to support the family.
"He's just Lennon, but what happened to him is bigger," said Claudia. "College kids are getting involved to look for closure."
The one thing the family asks of the Guilford community is to keep asking questions.
"Get (Lennon's story) out into the public as much as possible," said Claudia. "Things should not be hidden. They should be known."
On Dec. 1, Shipman came to Guilford to speak with a group of students during Community Senate.
"It makes it more real," said sophomore Mara Stern. "It's really easy for people to think that something's important, but to see someone that was actually affected empowers people to do something."
Students plan to join the family in Bladenboro for a protest on Dec. 6. Each student is being asked to bring a children's book for the community.
"Lennon's brother is going to start the first youth program in Bladenboro," said Portia. "He wants to do it in honor of Lennon."
Ultimately, Claudia, Pierre and the rest of the family just want to know what happened to Lennon.
"I would accept anything, if you can explain it to me," said Claudia. "I would accept the fact that my son took his own life if you can explain it to me."
View Comments (1)